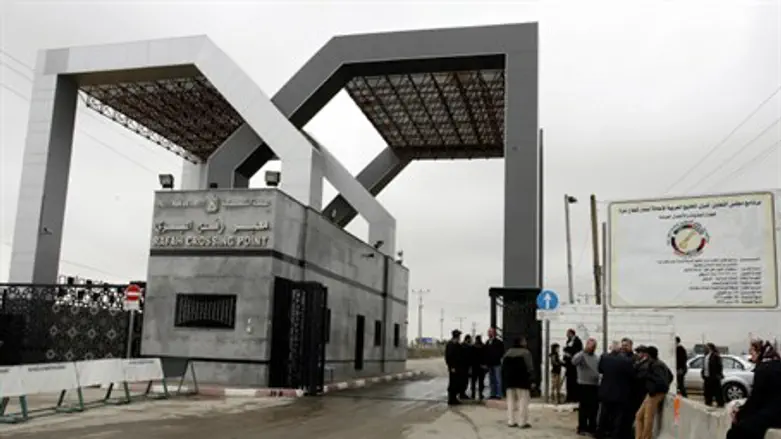 Rafah border between Egypt and Gaza
Flash 90
Egypt opened the Rafah border crossing into Gaza for the first time in three months on Wednesday, Reuters reports. 
The crossing will be open for two days, according to the news agency.
Egyptian authorities have kept the crossing virtually sealed since a terrorist attack in the Sinai Peninsula in October 2014, though they have temporarily reopened the crossing several times since that specific attack.
Sources in Egypt have revealed that Hamas terrorists had provided the weapons for the lethal October 2014 attack, which killed 30 soldiers, through one of its smuggling tunnels under the border to Sinai. Hamas denies the allegations.
After that attack, Egypt began creating a wide buffer zone along the Gaza border, in a bid to destroy the hundreds of smuggling tunnels Cairo says are used by Palestinian Arabs to deliver weapons to jihadists in the Sinai.
Some 30,000 Gazans are on a waiting list to cross at Rafah, according to Reuters, but only a few thousand, including patients, students and holders of residency permits in third countries, were likely to do so on Wednesday and Thursday before it closes again. 
The Palestinian Embassy in Cairo said Rafah was opened at the request of the Ramallah-based Palestinian Authority chairman Mahmoud Abbas, who met Egyptian President Abdel Fattah al-Sisi this week. 
Hamas ousted Abbas's Fatah movement from power in Gaza in a bloody coup in 2007. 
The Gaza-based Hamas government has been trying to make amends with Egypt, and a delegation headed by Hamas political bureau member Mousa Abu Marzook recently held talks in Egypt  aimed at normalizing the relations.
Following the visit, reports emerged that Hamas agreed to Egypt's demands, namely that it would not interfere in Egyptian affairs, and will supervise and control the borders with Gaza, while fighting all extremists in Gaza and stopping them from infiltrating Egypt.