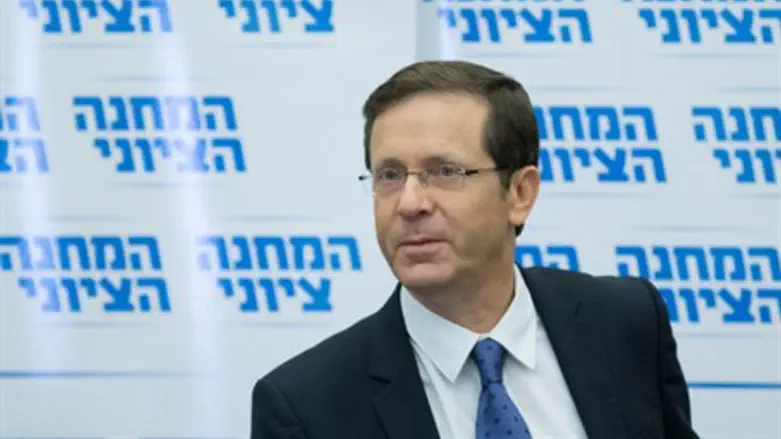 Is Yitzhak Herzog about to join the government?
Yonatan Sindel/Flash90
Significant progress has been made in unity government talks between Prime Minister Binyamin Netanyahu and the head of Israel's left-wing opposition Zionist Union, according to reports.
Channel 10 news cited "sources in the Likud and Zionist Union" as saying the chances of a deal between the two were "greater than ever," without elaborating further.
The latest reports come amid increasing speculation over the Zionist Union's imminent entry into the Likud-led government, a move likely to irk some of Herzog's leftist rivals, as well as right-wing MKs currently within the coalition.
Earlier it was reported that the Zionist Union is demanding the scalp of senior Jewish Home MK Uri Ariel, who leads the religious-nationalist party's Tekuma faction, in exchange for expanding Netanyahu's wafer-thin majority of 61 (out of 120). The Zionist Union holds 24 seats in the Israeli Knesset.
Zionist Union officials claimed on Monday their party would demand Ariel be ousted from the Agriculture Ministry, in a bid both to sideline the nationalist MK and take control of the ministry itself, whose powers were significantly expanded at the start of the current government.
Speculation over a unity government has never really ceased since the general elections in March 2015, with Netanyahu declining to allocate key ministries - including the much-coveted foreign ministry - fueling rumors he was holding out for Herzog to join the otherwise right-wing government following Labour's party primaries.
Both Netanyahu and Zionist Union co-chief Tzipi Livni recently confirmed that high-level talks had taken place between him and Herzog, but that they had stopped when a possible police investigation into alleged corruption by Herzog was announced.
After police said they would not be pursuing the matter any further due to lack of evidence, the talks soon resumed - in spite of Herzog's intermittent declarations that he was not considering joining Netanyahu.
Education Minister Naftali Bennett has warned his Jewish Home party could bolt the coalition in protest, if Netanyahu hands key positions such as the Justice Ministry - currently held by Jewish Home's Ayelet Shaked - to the leftist party.