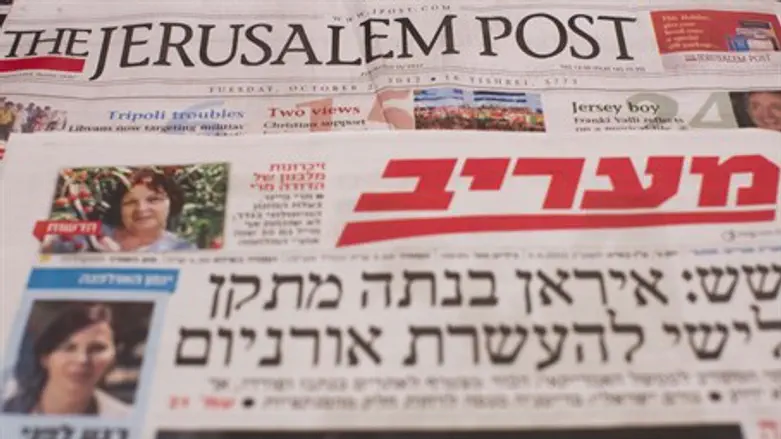 Israeli newspapers
Yonatan Sindel/Flash 90
Official Palestinian Authority (PA) media incites to terrorism against Israelis on a regular basis, but that didn't stop the PA-based Wafa news agency from publishing a report about alleged "Israeli incitement" against Palestinians in the Israeli media.
The report, which covers the period from April 15 to 28, noted expressions of "incitement" in the NRG news website, the Israel Hayom newspaper, the Ma'ariv newspaper and Kikar HaShabbat news website.
As proof of this alleged "incitement" and "racism" in the Israeli media, the report quoted excerpts from an article written by Rabbi Nir Ben Artzi which appeared in Kikar HaShabbat on April 22 and in which he wrote, "The Palestinians and Hamas pretend they are miserable so that others take pity on them."
"The Creator is fighting for the people of Israel," wrote Ben Artzi in the article, claiming that the developments in the Middle East are "signs of the coming of the Messiah."
Further proof of the alleged "Israeli incitement" was presented in a quote of an article by Gonen Ginat which appeared in Israel Hayom on April 22, and in which Ginat described the Palestinian culture of expressing joy over the burning of Jews following the suicide terrorist attack on a bus in Jerusalem.
An article by Boaz Haetzni which was published on the NRG website on April 17, and in which he backed the dissolution of the PA following the smuggling of spoiled meat from PA-assigned areas of Judea and Samaria into Israel, was also described by Wafa as an article featuring "incitement".