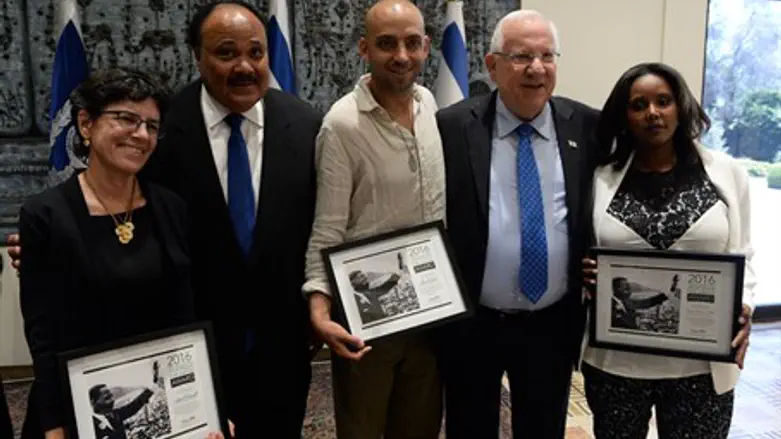 Rivlin with recipients of the Unsung Heroes award
Haim Zach/GPO
President Reuven Rivlin hosted Martin Luther King III, son of civil rights leader Dr. Marthin Luther King Jr., at his residence Sunday - along with artist Idan Raichel, former MK Pnina Tamano-Shata (the first Ethiopian born female MK), and journalist Anat Saragusti.
All were at a special ceremony in Jerusalem this morning, where they were recognized for their activism on behalf of Ethiopian Jewish immigrants to Israel, and received the 2016 Unsung Hero Award from the Drum Major Institute, a civil rights organization led by Martin Luther King III.
President Rivlin congratulated the recipients, and welcomed Martin Luther King III.
He spoke of the importance of the vision and leadership of his father, and of the resonance of his dream for communities around the world.
"In his last speech, on 3 April 1968, one day before his assassination your dear father, Martin Luther King Junior said – and I quote, 'We as a people will get to the Promised Land together!'," Rivlin began.
"He taught us a great and important lesson; the Promised Land is of course an actual place, but at the same time it is also a vision, a dream, and also a responsibility. It was this old dream of the Promised Land that kept the fire burning in the hearts of the Jews of Ethiopia for so many years - for centuries."
"It was that fire, that deep faith, that dream, that brought them to Israel, to Jerusalem."
"For many of the community, modern Israel did not exactly fit the dream, but thankfully the Israeli community of Ethiopian origin is strong," he continued. "It is a community with the power to create new dreams and visions, and picture their own new Promised Land built here in the actual Promised Land of Israel."
"Dear friends here today, artists, public figures and activists, you help us all see the possibilities of this new Promised Land. I would like to thank you all, in the name of the State of Israel."
MLK III (L) with Rivlin
Haim Zach/GPO
Martin Luther King III thanked the President for his warm welcome.
"It seems to me the message of Martin Luther King Jr. still resounds loudly in our nation and throughout the world and perhaps is needed even more so now today than back then," he stated. "I think the world is crying out for a message of hope and healing. We are honored to be in this nation, and honored to be in this official residence."
Singer Idan Raichel, a recipient of the award thanked the President for welcoming the group. 
"I want to thank you Mr. President for welcoming us here, and thank Mr. King for this great award," he stated. "Each one of us in our own mission is trying to continue the dream of your father and your organization to create the bridges between cultures and bring hearts together."
Former MK Pnina Tamano-Shata, accompanied by her mother who had brought her to Israel as a child of just three years old, spoke of her honor at receiving the award.
She said, "I believe there is an important relationship between the Jewish and African American community that we need to strengthen. We can do much together to fight discrimination and hatred. In Israel too we still have much to do to fight discrimination."
Journalist Anat Saragusti also thanked the President and said, "The strength of a society is based on its diversity and the strength of the chain is based on the weakest link. President Rivlin raised the flag of diversity, and this is very inspiring, to have a President who strengthens us in civil society, who work to make the change and promote equality in our communities to see that all men are created equal."