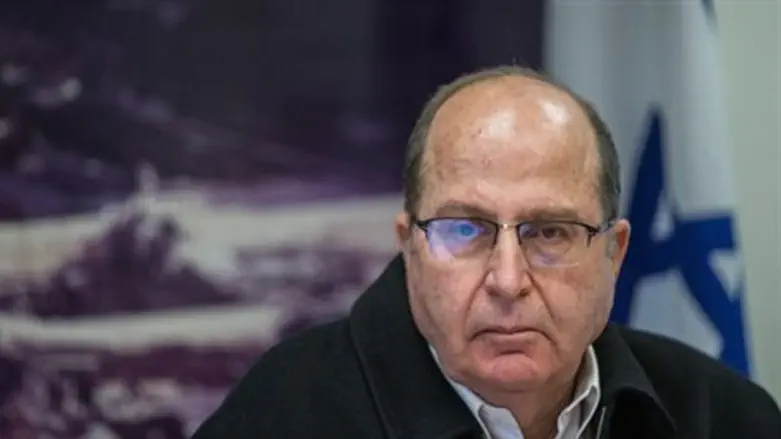 Moshe Yaalon
Yonatan Sindel / Flash 90
Defense Minister Moshe Yaalon (Likud) responded on Thursday to criticism aimed at IDF Deputy Chief of Staff Yair Golan over comments he made during a Holocaust Remembrance Day ceremony Wednesday night.
During his speech, Golan appeared to draw comparisons between modern-day Israel – and Nazi Germany.
"If there is something that scares me about the memory of the Holocaust, it is the identification of horrifying processes that occurred in Europe in general and Germany in particular - 70, 80 and 90 years ago - and finding evidence of them here among us, today, in 2016," he said.
Golan's comments kicked up a storm of criticism, drawing condemnations from Jewish Home ministers Ayelet Shaked and Naftali Bennett.
Bennett demanded Golan retract his statements, warning that they could empower Holocaust deniers and other anti-Semites.
"Before the Holocaust deniers flag those bad words. Before our soldiers will be compared to Nazis. The Deputy Chief of Staff made a mistake and must correct it immediately."
Shaked also criticized Golan's statements, suggesting that he was "confused" about the Holocaust.
"The Deputy Chief of Staff is confused in my opinion. His comments mainly suggest a lack of understanding, not to mention a contempt for the [legacy] of the Holocaust. There is absolutely nothing in the world that needs to be compared to this [the Holocaust]," Shaked told Army Radio.
On Thursday, Yaalon weighed in, rejecting the criticisms levelled against Golan and claiming that they were part of a broader campaign against the IDF.
"I have full faith in the Deputy Chief of Staff, General Yair Golan, a fighter and outstanding commander, high-caliber and praiseworthy. [The fact that his critics] are pouncing on him with such militancy shows how they give deliberately flawed commentary about his statements last night – this is just another attempt in a frightening and disturbing campaign to harm the IDF and its officers politically. We cannot let this happen."
"The responsibilities of an army officer, especially a senior commander, are not limited to leading soldiers out to war, but also include charting out a path and ethical standards with the help of [his] moral compass."