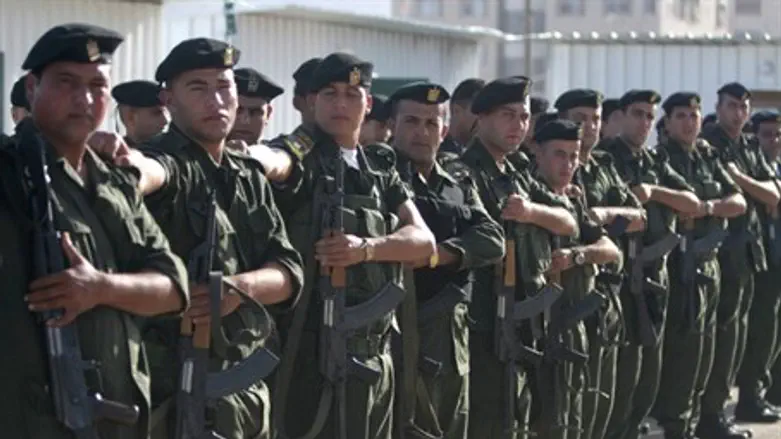 PA Security Forces (file)
Flash 90
A Channel 2 report on Tuesday night revealed the IDF has partially withdrawn from Area A in Judea and Samaria, in a reduction in security coordination that may have helped cause Tuesday evening's terror attack near Dolev in Samaria.
But the IDF continues to tout the security coordination with the Palestinian Authority (PA) - even as the Palestine Liberation Organization (PLO) executive committee on Wednesday is to discuss cutting the security coordination completely.
Officials from the security establishment on Wednesday praised the security coordination, saying that while the scope of arrests of terrorists conducted by PA Security Forces stood at around 10% at the start of the terror wave last September, currently it takes up roughly 50% of the burden in areas under its control.
"We're talking about between 34-40% Palestinian activity on a fixed basis (in arresting terrorists), and it even reaches 50-50," said the security officials.
However, the IDF officials clarified that there is nothing stopping the army from taking action to thwart terror in Area A, regions designated as being under PA security and administrative control in the 1994 Oslo Accords. The IDF reentered the regions in the 2000 Oslo War or Second Intifada so as to counter the rampant terror.
"We only rely on ourselves," stressed the officials.
In the IDF and the entire security establishment, including the Civil Administration and Israeli Security Agency (ISA or Shin Bet), there is ongoing talk of taking steps to improve the financial condition in the PA-ruled areas and even increasing Arab work permits.
A full 280,000 Palestinian Arabs living under the PA in Judea and Samaria directly or indirectly make their living from the state of Israel, the officials revealed, noting that around 400,000 Jews live in Judea and Samaria as do around 2.8 million Arabs.
"This fact of correct management of the financial field and coordination between the (Palestinian) Authority and Israel, which is a need of both sides, together with successful and good activities of the security establishment, have brought a victory (at least partially) over the current terror wave," according to the security establishment assessment.
As noted the appraisal comes a day after three IDF soldiers were wounded in a car ramming attack near Dolev in Samaria, in which one of them was seriously wounded. Israel returned the body of the terrorist the same day.
And on Wednesday, PLO Secretary-General Saeb Erekat is to propose to the PLO executive committee that it cut off all security coordination with Israel.
"We will meet to officially approve an end to the security meetings with the Israelis and we will stop the security coordination with Israel," said Erekat.