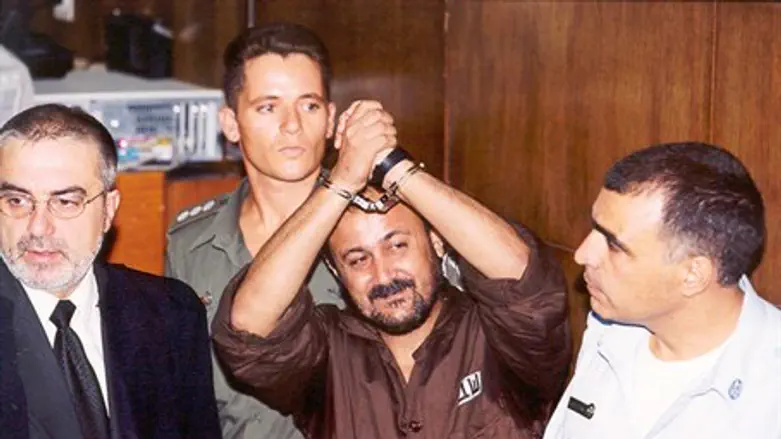 Marwan Barghouti
Flash 90
Joint List chief Ayman Odeh is in hot water again, this time for comments made in support of archterrorist Marwan Barghouti.
Odeh, who recently stirred up controversy by praising the wave of stabbing attacks as a "good strategy" that was "most beneficial" to Palestinian Arabs, was also criticized for calling former Shin Bet director Avi Dichter – now an MK for the Likud – a murderer. Odeh even offered the terrorist group Hezbollah support after the organization was blacklisted by Gulf Arab states.
In the latest row, Odeh lauded Barghouti, a Fatah Tanzim terrorist leader responsible for a series of suicide bombings during the Second Intifada. Barghouti is currently serving out multiple life sentences for murder and attempted murder.
Speaking at the Palestine House in Toronto, Odeh blasted Israel as an "apartheid state", calling the Jewish stat a "pretend democracy."
Odeh also praised Barghouti as both a "fighter" and a symbol for the cause.
"The leader, Marwan Barghouti, is a great fighter and a model of endurance and patience. Despite long years of captivity, he is lofty and has optimism, a capability of conducting analysis, and a clear political vision which liberals lack."
In the past, Odeh has visited a number of murderous Arab terrorists serving life sentences in Israeli prisons including Barghouti.
The venue of Odeh's speech, Palestine House, has been criticized in the past for its pro-terrorist leanings. The organization denies Israel's right to exist and has praised murderous terror attacks against Israelis.
In 2012 the Canadian government defunded the Palestine House, citing a "pattern of support for extremism."
In 2013 a former leader of Palestine House called for a genocide against Israeli Jews at a public rally.