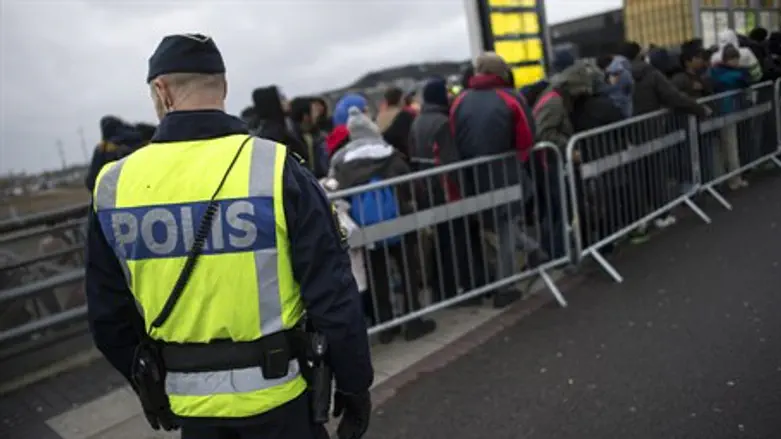 Swedish police guard Muslim immigrants (file)
Reuters
Islamic State (ISIS) terrorists have infiltrated Sweden and are planning an imminent attack on the capital city of Stockholm, according to intelligence received by the Scandinavian nation.
Security services in Sweden are investigating undisclosed information about the ISIS attack, local media reported Tuesday as cited by Reuters on Wednesday.
Swedish security police (SAPO) were tipped off by Iraq that seven or eight ISIS terrorists entered Sweden with plans to attack civilians, according to Expressen.
A SAPO spokeswoman refused to divulge any details, saying, "security police are working intensively to assess received information, and it is of such a nature that our judgement is that we can not dismiss it."
An Iraqi security source revealed six Iraqis left the country in February 2015, and made their way into Sweden after passing through Turkey.
The head of the cell is a veteran terrorist with close ties to Abu Musab al-Zarqawi, the leader of Al-Qaeda, as well as Abu Bakr al-Baghdadi, the leader of ISIS, according to the source. He was jailed numerous times by US forces in Iraq.
"They want to conduct special operations to force Sweden to withdraw from the international military coalition (against ISIS)," said the source, making note of the recent large scale attacks in Paris and Brussels.
Sweden has yet to see a mass casualty terror attack, although a terrorist is currently waiting for a verdict for having apparently built a suicide bomb to launch an attack in the country. The closest the country came was in 2010, when a suicide bomber died as his bomb belt exploded prematurely in central Stockholm.
According to NRK, the Norwegian public broadcaster, police in the country are currently assessing whether the Norwegian royal family should take their planned trip to Stockholm this weekend celebrating the Swedish king's 70th birthday in light of the ISIS threat.