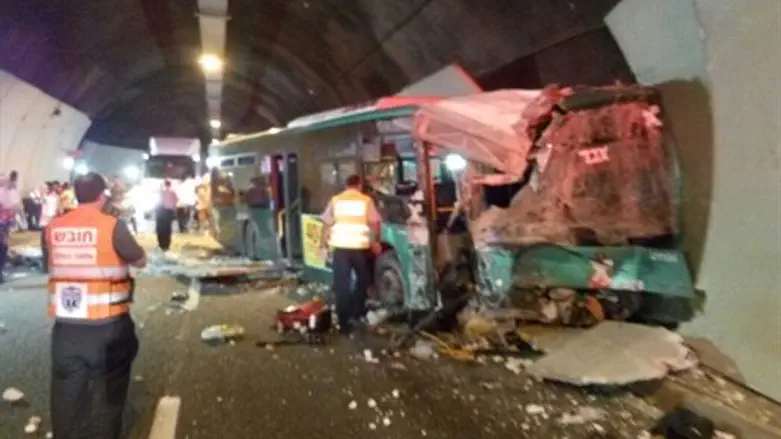 Carmel Tunnels bus crash
Hof district fire and rescue spokesperson
The bus driver suspected of killing 17-year-old Or Elbaz in a horrific bus crash in Haifa Thursday night, was released Sunday afternoon from house arrest at his brother's house and returned to his own home. Police also revoked his driver's license.  
According to his attorney, the 44-year-old driver was in a terrible state and felt great sorrow for what had happened.
"He is in a bad state. He received the news that the passenger died and he began to cry," said one of his lawyers, attorney Ron Meister, in an interview with Walla! News. "He is in a poor psychological state of mind."
The Egged 101 line was said to be traveling from the direction of Hof Hacarmel towards Neve Shaanan along the tunnels when it crashed into the wall of the tunnel.
Investigations indicated the bus veered for an as yet unknown reason, and police continue to check the circumstances. The driver continues to defend himself and blames the crash on a technical problem.
"The driver claims momentary failure of the wheel, that the police will have to check. The driver denies the allegations of distraction which police will also investigate," said Meister.
Another lawyer, Eran Bar-Or, sought to emphasize that the driver had two years' experience driving buses and was working with the Egged company for a mere three weeks. He said he had no record of traffic violations and began driving Egged busses after undergoing eligibility training.
Bar-Or further detailed that on the day of the accident, the bus driver reported a malfunction twice to the dispatcher.
Sixteen victims are still hospitalized – seven in Rambam Hospital, one in Bnei Zion Hospital and twelve in the Carmel Hospital.