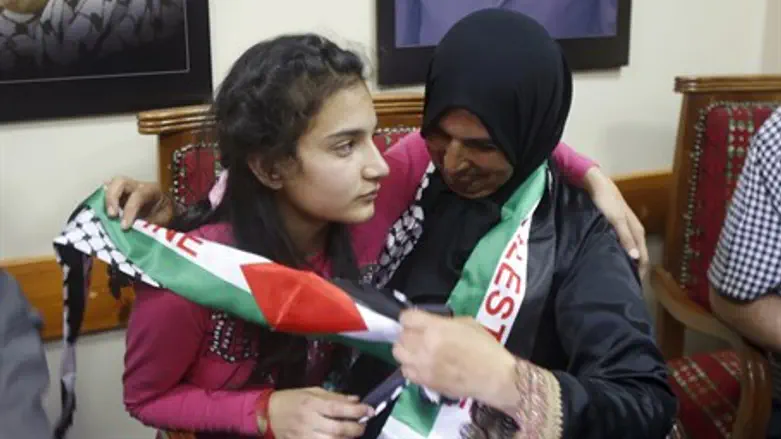 Dima al-Wawi with her mother
Reuters
Israel on Sunday released a 12-year-old Arab terrorist, the youngest female terrorist jailed in Israel, after a paltry two-and-a-half months in prison despite her attempt to murder Jews.
The terrorist girl, Dima al-Wawi, was jailed on February 9 when she tried to conduct a stabbing attack. She was caught by security forces with a knife in her possession on the outskirts of Karmei Tzur in Gush Etzion, Judea. 
In investigation, al-Wawi admitted that she intended to conduct an attack and murder Jews.
While Israeli law does not allow jail time for terrorists under the age of 14, al-Wawi as a non-citizen resident of Judea and Samaria was tried by a military court which can try terrorists as young as 12.
However, due to her age she was sentenced to only half-a-year in jail for attempted murder and illegal possession of a knife, and that sentence was later reduced to four-and-a-half months.
The military court this month agreed to her parents request to further reduce her sentence by two months, and after her parents paid a 8,000 shekel (around $2,130) fine, she was released on Sunday after just two-and-a-half months in jail.
Al-Wawi was released from Hasharon Jail where she had been serving time. Accompanied by officers of the Nahshon Unit of the Israel Prison Service (IPS), she was transferred to the Palestinian Authority (PA).
The transfer to PA Committee of Prisoners' Affairs director Issa Karake and other Arab officials took place at the Jubara checkpoint near Tulkarem in Samaria. From there she was to travel to her family's home in Halhul near Hevron.
The young terrorist was greeted by her mother, and in a ceremony welcoming her heroically both she and her mother wore scarves with "Palestine" written on them together with the Palestine Liberation Organization (PLO) flag.
Al-Wawi's attempted attack took place not far from where three Israeli teens were abducted and murdered by Hamas terrorists in July 2014, and her hometown of Halhul is where the bodies of the three were found in a ditch dug in a field belonging to the family of the terrorists.
Aside from Karake, the PA governor of Tulkarem Issam Abu Bakr was also present to welcome the 12-year-old terrorist back.
"The detention of children is a crime against humanity," Abu Bakr said, according to the Palestinian Ma'an News Agency.
He failed to note her admitted intent to murder Jews, while claiming Israel "practices the ugliest means of suppression and torture against Palestinian children."