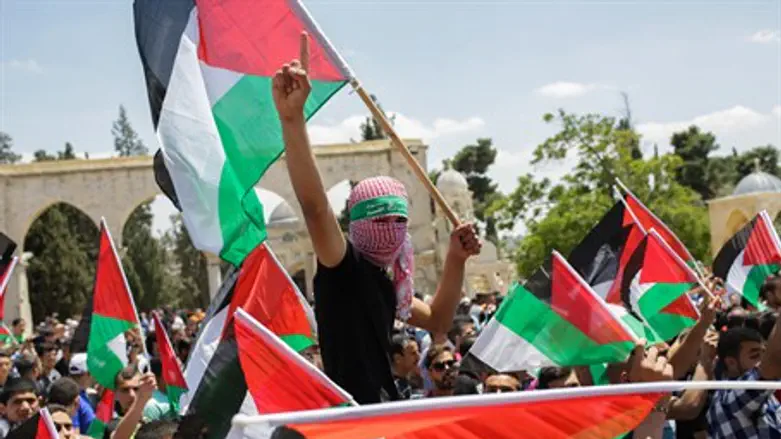 Arab protest at Al-Aqsa Mosque, Temple Mount
Muath Al Khatib/Flash 90
The Ramallah-based Palestinian government on Thursday warned against Israel trying to "Judaize" the Al-Aqsa Mosque, and issued a call to Palestinian Arabs to arrive en masse at the compound in order to "protect" it.
In a statement, the government warned against the "dangers" by "extremist" Jewish organizations which, it claimed, are planning to build a Holy Temple on the compound.
It further claimed that it is a move by Israel aimed at taking over the entire area of ​​Jerusalem and the Al-Aqsa Mosque and to "Judaize" the mosque.
The Palestinian government also accused Israel of "racist" behavior and of waging a "religious war" against the Palestinians, and then called on the Palestinian people living within Israeli territory to go to Jerusalem and cling to the Al-Aqsa Mosque any prevent any possible attack against it.
The statement also called on Arab and Islamic nations to help the steadfastness of the Palestinian residents of Jerusalem and other PA territories who are facing "settlement attacks" as well as "war crimes and crimes against humanity."
It concluded by issuing a greeting to "our prisoner heroes who are languishing in the prisons of the Israeli occupation."
PA officials have continuously baselessly accused Israel of plotting to destroy the Al-Aqsa Mosque.
The most common libel used by PA officials is that Israel wants to demolish the mosque in order to build a Holy Temple in its place.
PA officials have also claimed that Israel is planning to engineer an earthquake to destroy the mosque. They have also accused Israel of using chemicals to erode the foundations of the mosque so that it will collapse.
The PA's false claims with regards to the Al-Aqsa Mosque have fueled much of the ongoing terror wave against Israelis. Perhaps the most famous such incitement was the call by PA chairman Mahmoud Abbas for Palestinians to liberate the mosque from Jews and their "filthy feet".