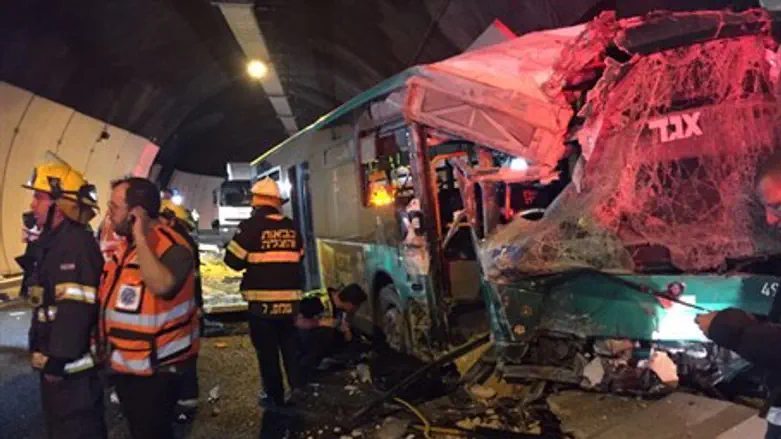 Site of Carmel Tunnels crash
United Hatzalah Carmel spokesperson
A serious traffic accident took place on Thursday night in the Carmel Tunnels in Haifa, in which a full bus crashed into a wall, leaving at least 39 passengers wounded and tragically taking the life of a young female passenger aged around 20.
Initially it was reported that the bus hit a truck and as a result veered from its lane, crashing into the tunnel wall. However, later investigations indicate the bus veered for an as yet unknown reason, and police continue to check the circumstances.
The Egged 101 line bus was said to be traveling from the direction of Hof Hacarmel towards Neve Shaanan along the tunnels when it crashed.
There were around 39 people wounded in the crash, including one female passenger aged around 20 who was critically wounded and later died of her wounds. Another six  were seriously wounded, seven were moderately injured and the rest lightly wounded. 
Naftali Rotenberg, director of the Carmel branches of the United Hatzalah organization, said, "when I arrived at the scene I was confronted by a difficult crash scene with the involvement of a bus that crashed into a wall and a truck."
"Together with other volunteers from United Hatzalah's motorcycle unit we gave initial medical treatment to more than 20 wounded in serious, moderate and light condition. Some of the wounded were trapped in the bus that crashed into the wall of the tunnel, and they were rescued by the firefighting teams."
Due to the crash the tunnels were closed to traffic.
Earlier on Thursday two people were killed in two separate traffic accidents in the north that took place within the span of an hour.
One crash took place on Route 806 near Eilabun, where a 30-year-old woman was killed, and the other on Highway 90 near Moshav Argaman in the Jordan Valley, where a 30-year-old man was killed and three others were seriously injured.
Scene of crash Hof district fire and rescue spokesperson