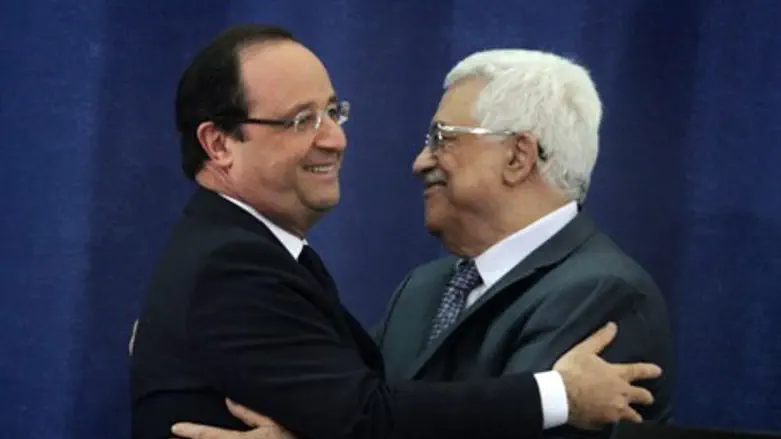 French President Francois Hollande and PA Chairman Mahmoud Abbas
Flash 90
France on Thursday announced that it has selected May 30 to hold an international meeting attempting to force Israel and the Palestinian Authority (PA) into peace talks, reports AFP.
Paris will be hosting a meeting of ministers from 20 countries on May 30 to try and bring the peace process back to life, according to Foreign Minister Jean-Marc Ayrault.
Ayrault spoke to four newspapers including Haaretz and the pan-Arab daily Al Quds Al-Arabi, although he specified Israel and the PA would not be invited to the meeting in Paris.
The French minister said the meeting's goal was to prepare an international summit in the second half of 2016, which would include Israeli and PA leaders.
"The two sides are further apart than ever," Ayrault said. 
But in a call to divide Israel's capital, he added: "There is no other solution to the conflict than establishing two states, one Israeli and the other Palestinian, living side by side in peace and safety with Jerusalem as a shared capital."
"We cannot do nothing," Ayrault told the newspapers. "We have to act before it's too late."
He said the discussions would be based on the 2002 peace initiative, which was rejected by Israel as it demands the Jewish state make enormous withdrawals and an influx of "Palestinian refugees" only to receive a paper promise of normalization from Arab states.
"In Israel, the government is more and more ambiguous on the issue of a two-state solution and the Palestinians are more and more divided," he said. "We have to explain to the Israelis that settlement activity is a dangerous process and that it puts their own security in danger."
"I am not naive, I am perfectly sincere. There is no alternative - the other option is fatalism and I reject that."
The meeting next week comes in the midst of an Arab terror wave characterized by heavy PA incitement, which has cost the lives of 34 victims since last September. Just this Monday the first bus bombing of the terror wave took place in Jerusalem, leaving 15 wounded; Hamas claimed the attack.
The French initiative for an international conference pressing a peace agreement between the sides was announced in January, and Paris threatened to unilaterally recognize the "state of Palestine" if the talks failed.
But the new French Foreign Minister Jean-Marc Ayrault backtracked on the threat last month, saying France would not "automatically" recognize a Palestinian state if its initiative fails.
The PA has welcomed the French initiative, though it has also insisted on a United Nations resolution against Israeli "settlement building" ahead of any renewed peace process.
Prime Minister Binyamin Netanyahu has rejected the initiative, calling it "mystifying" and counterproductive and arguing that the proposal gives Palestinians no incentive to compromise.
The last round of peace talks were pressed on Israel by US Secretary of State John Kerry, and eventually were torpedoed by the PA in April 2014 when it signed a unity deal with Hamas.