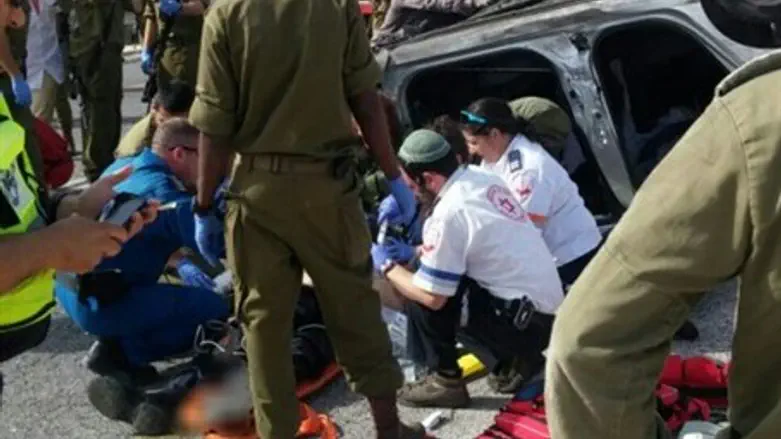 Highway 90 crash
Photo: MDA spokesperson
Within one hour on Thursday afternoon, two fatal car crashes occurred - one on Route 806 near Eilabun, where a 30-year-old woman was killed, and the other on Highway 90 near Moshav Argaman in the Jordan Valley, where a 30-year-old man was killed and three others were seriously injured.
In the first accident, a private ambulance driver noticed a woman of about 30 lying on the road near Eilabun in the Galilee.
Magen David Adom (MDA) Paramedics were called to the scene and carried out advanced resuscitation in an attempt to save her life. However, they were unsuccessful and the woman's death was pronounced.
The second accident on Highway 90 occurred between Palestinian and Israeli vehicles. The accident killed a 30-year-old man and injured three people including a 60-year-old man in critical condition with a head injury. The injured man was transferred via an MDA helicopter to Rambam Hospital in Haifa.
Two others, a female in her 60s and a man in his 40s, were mildly to moderately wounded after being trapped in their vehicle. They were evacuated to HaEmek Medical Center in Afula.