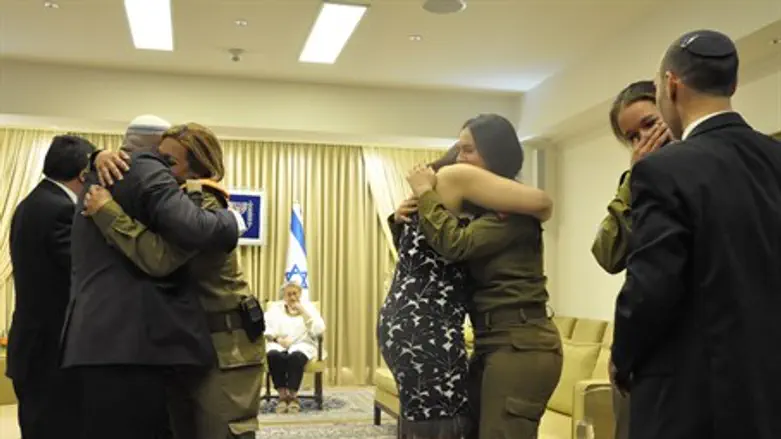 Lone soldiers get Passover surprise
Tomer Reichtman/GPO
Nehama Rivlin, the wife of President Reuven Rivlin, held a special meeting Wednesday in honor of Passover with five female lone soldiers, in which she recognized their sacrifices in making Aliyah and enlisting in the IDF to defend Israel even as their parents remain abroad.
But Rivlin had a special surprise planned for the five soldiers, as she caught them totally off guard by bringing in their parents who had arrived from abroad to celebrate Passover with them without their knowing.
Those taking part in the meeting were Levana Biton who made Aliyah from France and serves in the Combat Intelligence Collection Corps; Chaya Winterfall who immigrated from Canada to serve as a combat medic; Elisheva Rubinstein from Holland who serves as a course commander; Tal Duber of Florida who serves as a combat soldier in the Arayot Hayarden battalion; and Yael Tzubra of Sweden who serves training combat soldiers at Michve Alon.
"This is an opportunity to say a great thank you to all the female and male IDF soldiers for all of your self-sacrifice," said Rivliln. "I thought of a way to do something for you, and we arranged a little surprise for you all in honor of the holiday."
Suddenly a door opened and the soldiers' parents came in to their great surprise and delight, after such a long time spent apart. They rushed to embrace their father or mother, or in some cases both parents who managed to make the surprise trip.
"As a mother, I can imagine what you feel and also how your parents who made the trip here from across the sea feel," said Rivlin. "To be a female soldier isn't always easy - and it's even harder to be a female lone soldier."
"To be far from home, from the family, from the familiar place. As a mother of children who served in the army, I remember the preparations before the kids, my soldiers, would arrive home after a week in which they were in the army. Precisely because of that I so appreciate your choice, your self-sacrifice. You, in my eyes, are brave women."
Tomer Reichtman/GPO