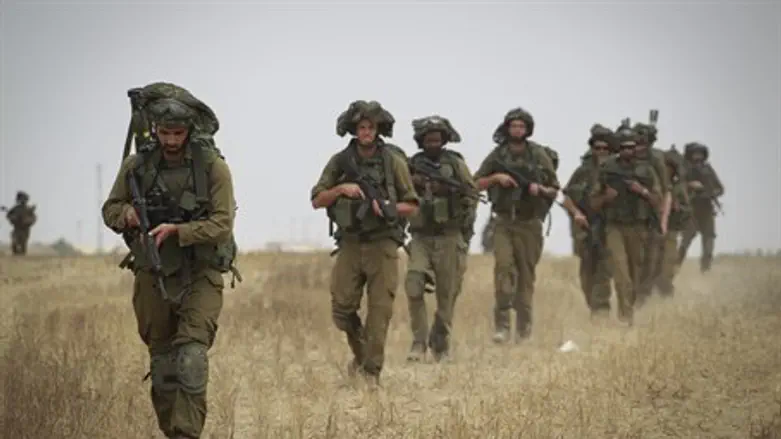 IDF soldiers (illustration)
Flash 90
The Security Cabinet on Wednesday discussed the question of removing the IDF from Area A, a series of regions in Judea and Samaria classified as being under the administrative and security control of the Palestinian Authority (PA) by the 1994 Oslo Accords.
Israel was forced to bring its forces back into the region due to the rampant terrorism of the 2000-2005 Oslo War or Second Intifada, in which over 1,000 Israelis were murdered and PA forces took an active role in the attacks.
A senior security official on Sunday said that a deal on an IDF withdrawal from Area A was imminent, as talks between the IDF and the PA were potentially days away from reaching an agreement. The PA has revealed it is demanding the IDF presence be removed from all PA-controlled cities in a total withdrawal.
In the Cabinet meeting the ministers were given an update by IDF Chief of Staff Gadi Eizenkot regarding discussions on security coordination in Area A with the PA Security Forces.
Prime Minister Binyamin Netanyahu, Defense Minister Moshe Ya'alon (Likud) and Eizenkot clarified in the meeting that the IDF maintains and will maintain the option to enter Area A, or anywhere else according to operational necessities - an answer that apparently would not rule out a withdrawal with the option of later reentry.
In the discussion it was also clarified that currently there is no agreement with the PA on the matter.
The reports on Sunday of an imminent agreement pulling the IDF out of Area A led MK Nava Boker (Likud) to react with fury, warning that such a move "is a terrible mistake that would return us to the days of exploding buses in the streets."
Ironically, the following day on Monday the first bus bombing of the current Arab terror wave took place, as the Egged number 12 bus line was targeted in a bombing in southeastern Jerusalem that left 16 wounded.
In the Cabinet meeting Wednesday, a multi-year plan for the IDF covering 2016 to 2020 was approved, allowing the army to equip itself with advanced weapons systems, and increase its forces while also boosting efficiency.
Netanyahu praised Ya'alon, Finance Minister Moshe Kahlon (Kulanu) and Eizenkot on the new plan that was unanimously approved.