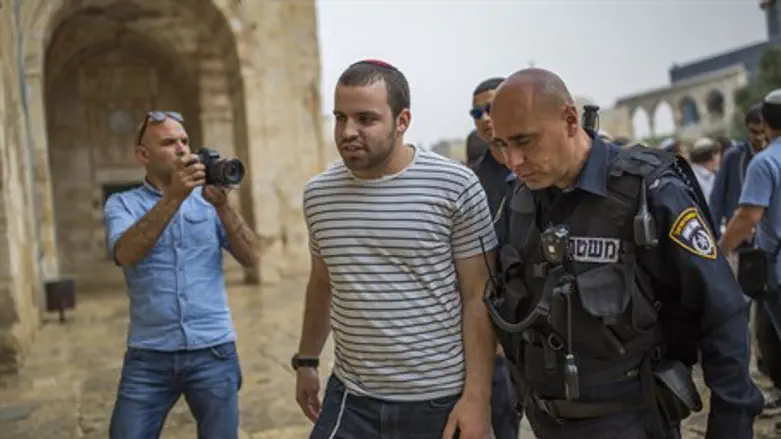 A Waqf guard (L) monitors Jewish visitors to the Temple Mount, accompanied by Israeli poli
Corinna Kern/Flash 90
The Jordanian government-controlled Waqf Islamic trust has announced it will be appointing 150 new "Islamic guards" to patrol the Temple Mount, just days after it was confirmed that a long-awaited program to install security cameras at the holy site had been scuppered by Muslim objections.
Earlier this week, the Jordanian prime minister announced that the American-brokered plan for CCTV cameras - meant to prevent both Muslim violence and Jewish visitors for daring to pray at their holiest site - was being shelved.
Prime Minister Abdullah Nsur had claimed that strong Palestinian objections to the plan had turned it into a "source of conflict."
Now, following the announcement, an emboldened Waqf appears to be attempting to consolidate Muslim control of the holiest site in Judaism.
According to Jordan's Alrai news, the country's Minister of Waqf and Islamic Affairs announced the imminent appointment of 150 new guards "for the Al Aqsa plaza". He said that would bring the total number of Waqf guards to 450, and that a team of ministry officials would be traveling to Jerusalem to meet with the new guards.
Waqf guards are tasked with maintaining Muslim control over the Temple Mount - which they refer to as Al Aqsa - particularly by closely monitoring and often harassing religious Jews who visit to make sure they do not utter any words of prayer. 
Under an agreement between Israel and the Jordanian government, non-Muslim prayer is forbidden on the Temple Mount, and Jews in particular are subjected to a long list of draconian restrictions - despite the site being the holiest in Judaism.