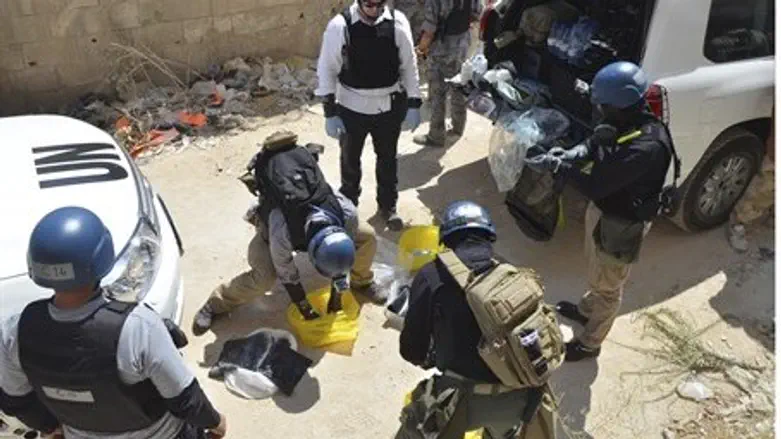 UN chemical weapons experts in Syria (file)
Reuters
Russia on Wednesday pushed for measures at the United Nations to monitor extremist groups fighting in Syria, warning of a "clear and present threat" that they could stage chemical attacks, possibly in Europe.
Russia and China presented a draft Security Council resolution that calls on all countries, in particular those neighboring Syria such as Turkey and Iraq, to report any move by armed groups to acquire or produce chemical weapons.
Ambassador Vitaly Churkin said the measure would address the threat of chemical terrorism.
"I have not heard anybody claim that they are concerned that the Syrian government may use chemical weapons in a subway in a European city – all those things are happening with the terrorists," Churkin told reporters.
"We know that they there is a strong concern, with reports that thousands of them have moved to Europe."
"Could some of them have brought with them components of chemical weapons? Could some of them have brought to a European city or European country their knowledge of how to build chemical weapons?"
"Obviously, this is a clear and present threat."
The draft resolution was presented during a closed-door council meeting to discuss progress in a UN-mandated investigation to determine who is behind chemical attacks in Syria.
The joint investigative mechanism (JIM) was set up last year after evidence surfaced of chlorine gas attacks on three Syrian villages in 2014 that left 13 dead.
A strong Syrian ally, Russia reluctantly backed a resolution setting up the JIM after rejecting western claims that the Damascus regime was behind the chlorine gas attacks.
President Bashar al-Assad's regime and rebel groups have accused each other of using chemical weapons in the five-year war that has killed more than 270,000 people.
Churkin said the draft resolution would address a "loophole" in efforts to prevent chemical weapons use by asking for reports from member-states and also requesting that the JIM monitor the armed groups.
"We do not do any work on the possibility of terrorists actually preparing to build chemical weapons," he said.
Western diplomats dismissed the measure as an attempt to dilute the mandate of the JIM, which is working to draw up a list of perpetrators of chemical attacks.
The draft resolution was also seen as targeting Turkey, which Russia has repeatedly accused of helping jihadists fighting Assad's forces.
A first report by the JIM in February zeroed in on five possible cases of serious chemical weapons use including an attack in Marea on August 21, 2015, that pointed to the likely use of mustard gas by Islamic State militants.
AFP contributed to this report