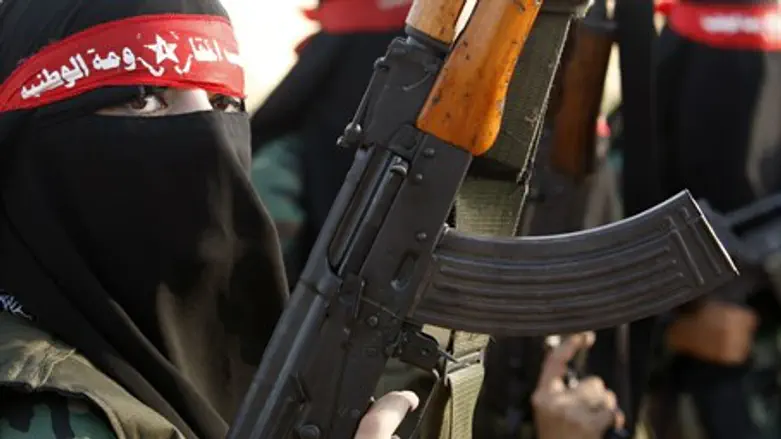 The attack was claimed by the Democratic Front for the Liberation of Palestine
Reuters
A day after cutting the funding of the Popular Front for the Liberation of Palestine (PFLP), the Palestinian Authority (PA) has done the same to the Democratic Front for the Liberation of Palestine (DFLP), the Ma'an news agency reported Tuesday.
Sources in the DFLP, who spoke on condition of anonymity, condemned the decision, telling the Palestinian news agency it was due to its critical stance of PA chairman Mahmoud Abbas.
On Monday, Abbas ordered the cancellation of funds allocated to the PFLP in what was also speculated to be due to the group's criticism of Abbas.
Kayed al-Ghoul, a PFLP leader, told Ma'an on Monday they believed the suspension of funds was related to recent remarks by some PFLP figures calling for Abbas to resign.
Al-Ghoul added that Abbas had previously cut funds to the PFLP for "political opposition."
The Fatah-dominated Palestinian Authority has come under increased public criticism in recent years over allegations of corruption and its ongoing security coordination with Israel.
A number of factions -- mainly Hamas -- have accused the PA of working with Israeli authorities to quash terrorism, with Hamas last week slamming the PA for allegedly detaining Palestinians on Israel's behalf.
Abbas angered the other factions when he gave an interview toChannel 2in which he promised to continue the security cooperation with Israel, and made statements against the wave of Arab terror attacks.
The DFLP carried out many deadly terror attacks in the 1970s and has also participated in and claimed responsibility for dozens of other terror attacks, including a suicide bombing near Tel Aviv that killed 4 people in 2003.