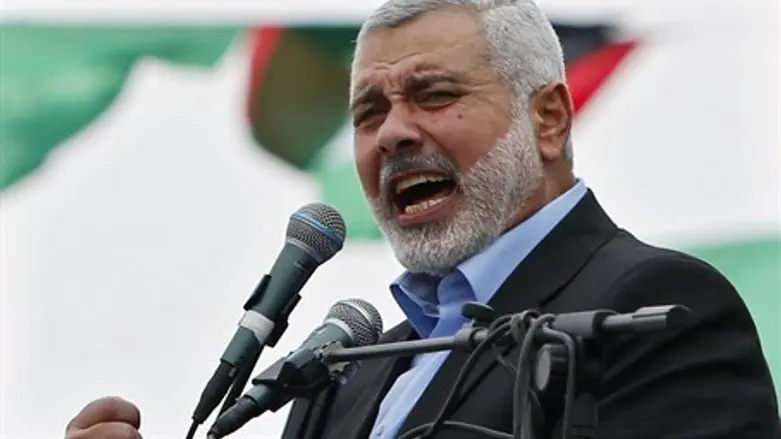 Ismail Haniyeh
Reuters
Hamas deputy leader Ismail Haniyeh considers the current wave of violence as a key factor in changing the balance of power between the Palestinian people and Israel.
Speaking at a gathering in Gaza this past Sunday, Haniyeh said that the "Al-Quds Intifada" – as the Palestinian Arab groups refer to the current wave of terrorism – proved that the current Palestinian generation is the "successor of the glory, honor and vitality, and our sons will not agree to Israeli plans in Jerusalem, the West Bank or anywhere else."
Haniyeh added that Israel is dealing with the "intifada" through actions of suppression such as "settlement building" and house demolitions, and the Palestinian response must come in the form of the establishment of a national framework for the intifada in order to realize national goals and the "liberation of the land."
At the same time, said Haniyeh, Hamas continues to improve its relations with Arab and Islamic countries as a response to the Israeli drive to implement its "racist" plans in Jerusalem, Judea and Samaria and thus "destroy the Palestinian problem."
Hamas has been vigorously involved in inciting terrorism during the current wave of violence, often mimicking Islamic State's style with propaganda clips staging beheadings and suicide bombings.
Hamas has been also been preparing intensively for its fourth terror war against the Jewish state. The IDF estimates Hamas is focusing its efforts on one major terror tunnel breaching far under the security barrier, with roughly 1,000 terrorists said to be working on the tunnel meant to enable a surprise attack deep inside Israeli territory; the tunnel has yet to be located.