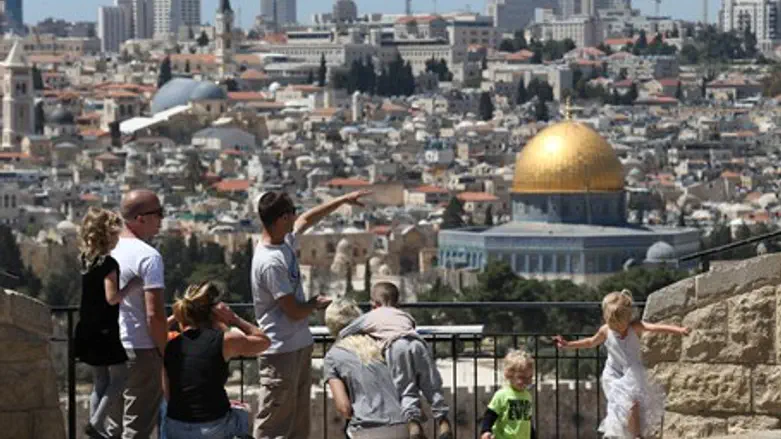 Tourists enjoy the sites in Jerusalem (illustration)
Nati Shohat/Flash 90
For a hard-core segment of travelers to Jerusalem, when the sun sets at the Sabbath, the magic in the air is not just the serene image of a peaceful dusk in an enchanted land. It is the empowering knowledge that the sun still shines on a Jewish State surrounded by fiery military and diplomatic turmoil. Israel remains a nation determined to survive and preserve its sense of magnetic amazement. In the minds of many, a visit to Israel is more than just a vacation. It is a geopolitical destination. Traveling to and enjoying Israel makes a statement to the world and to history. It reflects the steeled determination to be happy and fulfilled in one of the most treasured places on earth, despite a virtual siege around every corner.
When in Israel, especially in Jerusalem, everything about your tourism choices is political—which hotel you select, which taxi driver you hire, which bagel you buy, which restaurant you dine at, what fascination you experience, what memories you return home with. Are you buying a half pound of za'atar in Jerusalem's teeming Jewish market at Mahane Yehuda or at the stone-ensconced spice kiosks that line the time-polished lanes of the Old City? Or do you try both?
Anti-Israel sentiment abounds at the café tables of the Ottoman-era American Colony Hotel in East Jerusalem, while fierce loyalty to the Jewish State is detected in every corner of the modern David Citadel Hotel. Visitors book their rooms accordingly and create their own comfort zones in the respective lobbies.
Like everything else in the Jewish State, Israel's tourism industry - that is, its hotels, restaurants, amusements, and visitor services - has achieved a modern miracle. Despite wars and pressures, the nation has honed its travel experience to rival the best in the world. Elegant, constantly upgrading, hotels combine with a robust service and physical infrastructure attractive to any visitor. Exciting restaurants, where both ethnic and modern cuisines operate at the culinary apex, cater to all tastes and budgets. Breathtaking vistas in close proximity offer magnificent desert mountains, frothing Mediterranean shores and beckoning hills. Everywhere, one feels the irresistible lure of ancient history and religious authenticity.
Year to year, more than three million tourists visit Israel. This excludes so-called day "day visitors," that is, travelers who visit for the day but do not spend 24 hours in the country. Day Visitors include cruise passengers, sightseers crossing the Egyptian border, and airline employee stopovers.
The geo-political dynamic impacts Christian and as well as Jewish tourists. Tourism officials speculate that as of the end of 2015, approximately half its visitors were Christian. From some countries, such as Italy and Poland, the overwhelming majority are not Jewish.
Hard-core tourists to Israel - and indeed many others - are barely deterred from travel during times of high tension. Tourism trend watchers estimate that throughout most of this century, some 90 percent of first-time visitors came for sightseeing and leisure, pilgrimage, or family visits. In 2012, in the wake of Operation Pillar of Defense, with some 4,000 rockets hurtling daily from Gaza, Israeli hotels experienced an initial 10 to 20 percent cancellation rate, but the numbers quickly recovered. In 2014, after Operation Protective Edge and with the advent of the protective Iron Dome, tourism once again bounced back.
Part of Israel's long-term tourism strategy is not only to recover existing American and European support that may go flat, but to develop new markets over the horizon. Israel has spent years stimulating tourism from India, which now seems to be a major source of new visitors. Back in 2012, Indian Tourism Minister Subodh Kant Sahai was hosted. Sahai was so pleased, he declared, "Nearly every Indian wants to come and visit Jerusalem." Last year, in 2015, the influential Travel Agents Federation of India held their annual conference in Israel. More than two-thirds of Indian tourists rely upon professional travel agents. Israel's tourism office is headed by a gregarious Israeli Druze, Hassan Madeh. He says that in 2009 only 20,000 Indians visited. But by 2014, the number had jumped to 35,000. Last year, some 40,000 Indian tourists arrived. The numbers are expected to grow by 10 to 20 percent annually.
Israeli is also eyeing big jumps in tourism from China, Indonesia, and various African nations. Despite the recent diplomatic kerfuffle caused when the Israeli Foreign Ministry blocked Indonesian Foreign Minister Retno Marsudi from visiting Ramallah because she stated she would bypass Jerusalem, Israeli tourism officials expect Indonesian tourism to continue its increase. In 2014, around 26,700 Indonesians arrived in Israel, and that number will soon catapult. While Israel and Indonesia enjoy no formal diplomatic relations, a vibrant trade relationship does exist, and Israeli diplomats are quietly negotiating with Jakarta on a range of bilateral issues.
After Turkey downed a Russian jet at the Syrian border, and after terrorists exploded a passenger plane over the Sinai, tens of thousands of Russian tourists diverted to Israeli destinations. Weekly flights suddenly multiplied, Russian-language advertising was quickly purchased, and many hoteliers are right now reaping the rewards.
The Boycott, Divestment, and Sanction movement has been able to score little to zero success in dissuading personal travel to Israel. This became evident when BDS was unable to block a master stroke by tourism officials, placing a $55,000 carte blanche Israel travel gift in every "swag bag" at the recent Academy Awards. Many people are beginning to understand that the tourism sector is a bedrock of peaceful Jewish-Arab co-existence. People from both communities work diligently, side-by-side, hour-to-hour, at all levels of the industry, from the kitchen to the front desk to the management suite. Tourism accounts for at least 6 percent of the Israeli economy. Some estimate that tourism supports or helps support fully 200,000 jobs, mainly in hotels. Hence, the fruits of Israeli tourism nourish all sectors of Israeli society, albeit not at an equal speed or volume, as Arab towns complain that they have not yet rebounded because of the unrest in their localities.
The fact that some hotels are reporting fewer bed nights can be misconstrued. Alternative lodging modalities, such as Airbnb have caught on in Israel. Airbnb currently offers a range of more than 300 accommodations from spare rooms to luxury villas. That means Israeli hotels must compete both with each other and with spare rooms and flat rentals.
As usual, no tourism article is complete without some hotel reviews. Here are a few of many favorites.
WALDORF ASTORIA JERUSALEM. Recently opened in March 2014, The Waldorf Astoria has quickly changed the hotel landscape in Jerusalem. In the 1920s, the architectural wonder served as The Palace Hotel, built by the rabid anti-Semite and Hitler collaborator Haj Amin al-Husseini, aka the Grand Mufti of Jerusalem. It served as the luxurious headquarters of Britain's 1936–37 Peel Commission, which declared the two-state solution. During the Commission's deliberations, the pre-State military known as the Haganah, planted microphones in the chandeliers to monitor progress. After years of refurbishment, rumored to cost $150 million, the 226-room hotel re-opened as a luxurious pinnacle where every angle viewed, standing still or walking, creates a geometric progression of shape and contour. No wonder the Waldorf seized the #1 ranking in Condé Nast Traveler's 2015 annual survey of Mideast hotels. Unlike other Jerusalem hotels staffed by Israelis, the Waldorf's key staff includes hotel professionals who have transferred in from lodging industry posts throughout the world. Every moment spent in the Waldorf's magnificent rooms or its soaring lobby is a journey of enrichment.
THE KING DAVID HOTEL JERUSALEM. The foundation of Jerusalem's elegant hotel scene is built upon the revered King David Hotel, which shines as the automatic address for diplomats, statesmen, and international leadership, as well as the crème of hotel aficionados. The very definition of stately, The King David's many cornerstones in Israeli history are well known. When it was a Mandatory British headquarter, it was bombed by Menachem Begin. The King David has hosted many heads of state and, on occasion, must cancel all reservations as it did when Russian president Vladimir Putin suddenly took the entire hotel for a visit in 2012. Boasting a patio with an unrivaled view of the Old City walls, a classic lobby and anterooms with a table used to sign the peace treaty with Jordan, a staff that exemplifies dignity, and a haute cuisine breakfast buffet, there is simply none other in Israel that rivals The King David for sheer presence and prestige.
THE EFENDI. The measure of Israel's fast-growing tourism industry is the burgeoning list of exquisite hotels outside of Jerusalem and Tel Aviv. One in a class of its own is The Efendi, situated at the entrance of the ancient city of Akko. Formerly a disused Turkish palace, restoring The Efendi was the dream of Uri Jeremias, famed Israeli chef and owner of the fabulous Akko seafood restaurant Uri Buri. During a years-long and often miraculous restoration project, artists from Venice and Israel painstakingly recreated and returned to life the ornate frescoes, high ceiling treatments, and structural design. Modern room décor has created the illusion of a modern visitor eavesdropping on an Ottoman existence. Imagine breakfast to order daily in a centuries-old cavern, a 400-year-old revitalized Turkish bath and spa, a youthful and effervescent staff, a rooftop open-air lounge where wine at sunset over the Mediterranean is an unforgettable experience as chanting muezzins in nearby minarets call the adhan for prayers, a short walk to the Crusader tunnels, passing through the Arab market just outside the lobby door, and you will understand why The Efendi is often voted as Israel's best boutique destination hotel.
It is easy to make a geopolitical statement. But nothing is more enduring than to make that statement in person by traveling to Israel and vowing at Ben Gurion airport that you will soon return.
Edwin Black is the author of IBM and the Holocaust, and a syndicated columnist who travels extensively, frequently reviewing the hotels he stays in. He can be found at www.edwinblack.com.
©Copyright 2016 Edwin Black
All Rights Reserved