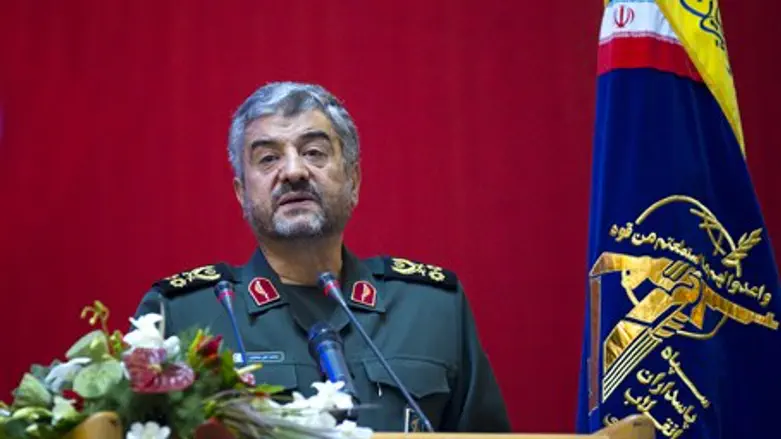 Iranian Revolutionary Guards Commander Mohammed Ali Jafari
Reuters
Iranian Revolutionary Guards Corps (IRGC) Commander Major General Mohammad Ali Jafari has said Iran is preparing for all-out war with the US and its allies, and has vowed Iran will continue advancing and testing its ballistic missile program.
Speaking at a gathering of senior IRGC commanders in Tehran Tuesday, Jafari declared that the US "would not be able to do a damned thing" in the face of Iranian advances, according to official Tasnim news agency.
"For years, we have been building power on the presumption of a widespread war with the US and its allies, and have developed all our capacities and capabilities for decisive victories over such enemies," Jafari said.
The top Iranian general also blasted neighboring Arab states for what he termed as "stupid behavior," in opting to align with Israel and the United States against Iran.
"Regimes like Saudi Arabia, Bahrain and their peers are symbols of modern political underdevelopment, and the IRGC… has made preparations for response to their rudeness and stupid behavior, which stems from (their) reliance on the US power," he stated.
Jafari expressed confidence that Arabs would defy their governments to "seek revenge" against them for their offensives against Iranian-backed Houthi rebels in Yemen, as well as "for their disgraceful support for Israel."
The IRGC, the primary military force in Iran and a major political player as well, is tasked with both protecting and exporting Iran's Islamic revolution. Its elite Qods Force has been deployed extensively throughout the Middle East and elsewhere, including in Syria, where Iranian fighters are helping to prop up dictator Bashar al-Assad, as well as in neighboring Iraq.
Despite last year's much-touted nuclear deal with major world powers, Iran has continued its hostile rhetoric and actions towards Israel and western states - particularly the US - and has repeatedly flouted UN bans on testing ballistic missiles, many of which are capable of reaching as far as Europe and of carrying nuclear weapons.