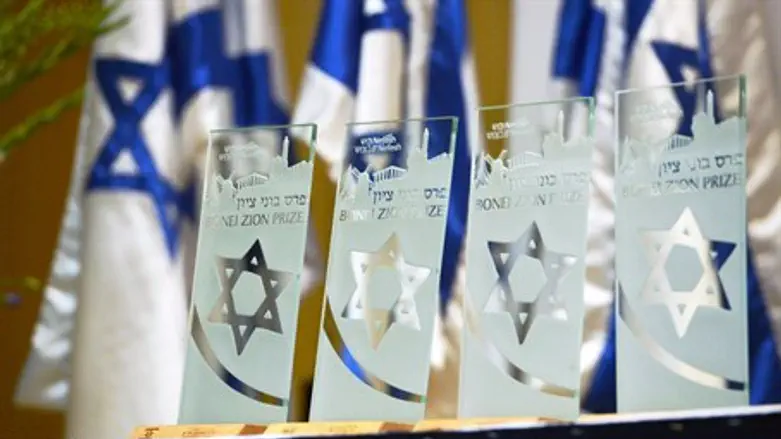 Bonei Zion Prizes
Shahar Azran
Six olim who immigrated to Israel from English-speaking countries and made a major impact on Israel have been awarded with in the 2016 Sylvan Adams Nefesh B'Nefesh Bonei Zion Prize, which was announced Monday.
The award in the field of Science and Medicine went to Prof. Howard (Chaim) Cedar, a Professor of Developmental Biology and Cancer Research at Hebrew University. The Culture, Sports and Arts award went to Estelle Friedman, Director of Production of Israel Education Television.
Barbara Levin, Founder of the Tali school system, was awarded in the field of Education, and Dr. Rachel Levmore, Rabbinical Court Advocate and Director of the Agunah and Get-Refusal Prevention Project, was awarded in the Community and Non-Profit field.
In the field of Entrepreneurship and Technology, the award honored Scott Tobin, General Partner of Battery Ventures, and the IDF and National Service Young Leadership Award went to IDF Staff Sgt. Sahar Elbaz.
An additional Lifetime Achievement Award was given to senior politician Moshe Arens, who has served as an MK, minister and ambassador.
The Bonei Zion Prizes are to be awarded at an official ceremony in the Knesset on May 23, and are sponsored by Sylvan Adams, a recent oleh and Canadian real estate developer.
Hundreds of olim from Australia, Canada, New Zealand, South African, the UK and the US were nominated for the prize, which recognizes those who help Israel by encapsulating the spirit of modern-day Zionism. A panel of prestigious judges, including former IDF Chiefs of Staff and diplomats, selected the winners.
"It is truly remarkable each year to see how olim are making such a significant impact on the State of Israel," said Nefesh B'Nefesh Co-Founder and Executive Director Rabbi Yehoshua Fass.
"The Bonei Zion Prize recipients exemplify how Anglo olim are making historic advancements and contributing, each in their own field, to the success of the country and our nation. The goal of the Bonei Zion Prize has been to highlight to Jews worldwide the incredible achievements olim are making in their respective fields in Israel and how one can succeed despite being a newcomer."