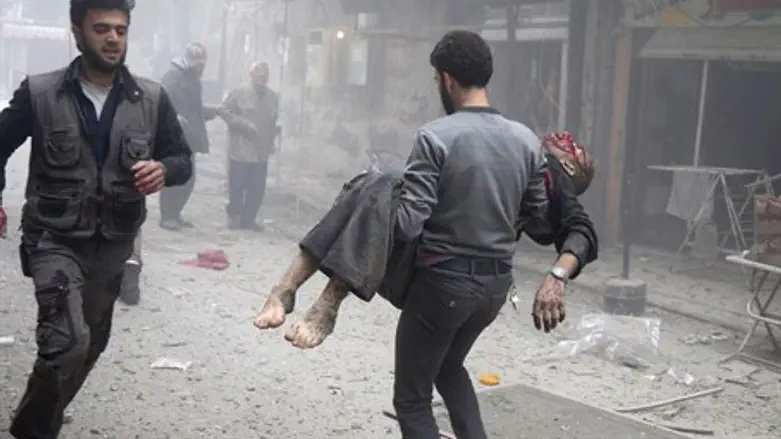 Victim in Syrian regime attack on hospital near Damascus (file)
Reuters
The United States said Thursday it was "appalled" by Syrian government air strikes Thursday that killed more than 30 people - including children - in a key rebel bastion east of the capital of Damascus.
The raids took place in Deir Al-Assafir, a town in the opposition stronghold of Eastern Ghouta, one of the areas in Syria where a fragile ceasefire brokered by the US and Russia has been in place since February 27.
"The United States is appalled by aerial strikes March 31, reportedly by the Assad regime, on a school and hospital in the Damascus suburb of Deir Al Asafir," State Department spokesman John Kirby said in a statement.
"We condemn in the strongest terms any such attacks directed at civilians," he added.
The Syrian Observatory for Human Rights, a monitoring group, has reported that 33 people died in the attacks, including 12 children, updating its earlier toll of at least 23 fatalities.
While there have been occasional incidences of violence, some of them deadly, the ceasefire has largely been hailed as a success by the United Nations.
"In joining the cessation of hostilities, even apart from its commitments to avoid attacking groups participating in the cessation of hostilities, the regime committed to full implementation of UN Security Council Resolution 2254, which called for an immediate end to any attacks against civilians and for all parties to comply with their obligations under international law," Kirby said.
"Any attacks directed at civilians must stop immediately," he added, calling on all parties to the ceasefire to comply with its terms and observe international law.
AFP contributed to this report.