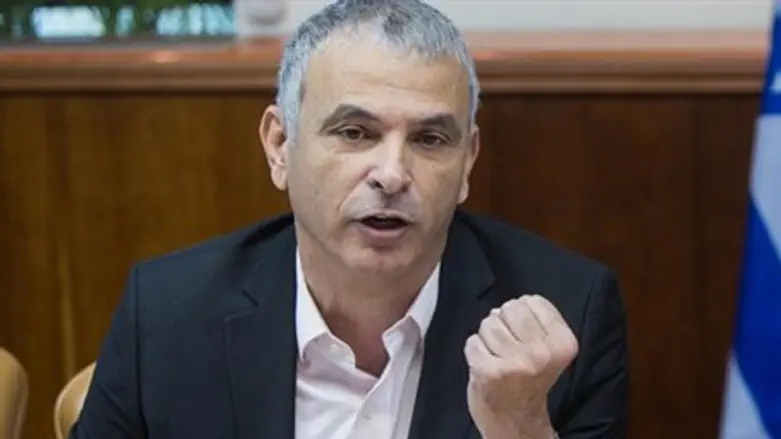 Moshe Kahlon
Yonatan Sindel/Flash 90
Finance Minister Moshe Kahlon said Tuesday he thinks Israel ought to conclude negotiations over a defense aid deal with the United States as soon as possible. 
Speaking at a conference at Tel Aviv University and quoted by Haaretz, Kahlon acknowledged that even after Vice President Joe Biden's visit to Israel this month and Defense Minister Moshe Ya'alon's visit to Washington, differences between the sides have not yet been resolved.
Kahlon added that at the start of the week he had spoken with Ya'alon about the issue.
"He told me it was going well. There is none of the hostility we read about in the media but there are arguments," the finance minister said, according to Haaretz.
Kahlon explained how the current defense agreement remains in force until 2018 and the new agreement will cover the aid the United States will provide Israel beginning in 2019.
"It's not like in an hour we will find ourselves without bullets for M-16s," he stressed, adding that his assessment was that there won't be many differences between the current and the next administration when it comes to aid to Israel.
"I don't think it's right to go into the politics of whether to do it during the Obama administration or the next administration," Kahlon said, adding, "If it's possible to conclude it now then it's better to finish it now. An economy needs a horizon. It needs a multiyear plan. I would prefer to complete it now."
Prime Minister Binyamin Netanyahu was recently urged to accept President Barack Obama's 10-year military aid package which reportedly include a total of $145.8 million for Israeli missile defense programs, a sharp drop in financial support.
A total of $3 billion in defense aid is given annually, but with those agreements expiring in 2018, Netanyahu has asked for an increase to $5 billion annually, in light of the greater need for security due to the growing Iranian threat after the nuclear deal. 
During his visit this month Biden pressed Netanyahu to close the deal before the end of Obama's term, stressing that Israel will not obtain a better deal from the next U.S. president.
The gaps between the Israeli and American positions were what made Netanyahu say at the cabinet meeting two months ago that if Israel's security needs were not met he would prefer to wait and pursue negotiations when the next president takes office in 2017, in hopes of achieving a better deal.
Netanyahu's comments, published by Haaretz, caused great anger at the White House. In past weeks a list of senior Israeli figures have approached Netanyahu, among them the ambassador to Washington, Ron Dermer, to say that despite the gaps over the amount, Israel has an interest in signing the agreement while Obama is still in office.