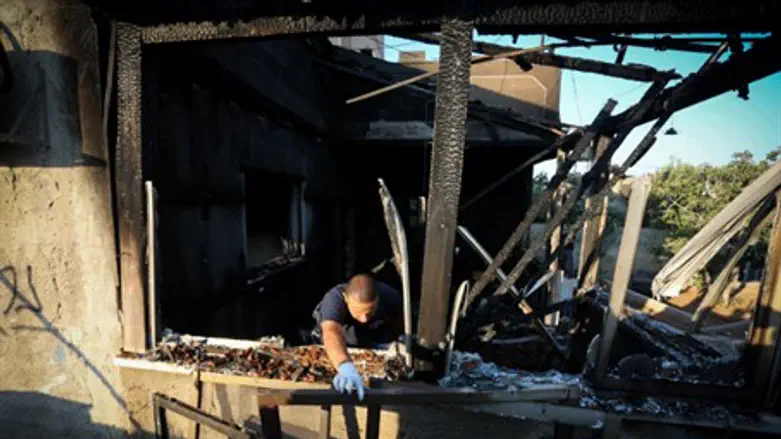 The alleged attack, revealed as false, raised fears of a second '
Flash 90
A Palestinian man who reported a "Jewish terror attack" near the Gush Etzion bloc south of Jerusalem now faces charges, after it was revealed he fabricated the entire incident.
On March 13, an Arab resident of a village near Neve Daniel in Judea lodged a complaint with Israeli security forces, claiming that "settlers" had set fire to his home, in an alleged incident similar to the deadly Duma arson further north in Samaria.
He claimed he identified the attackers as "settlers" by their tzitzit (fringed garments worn by religious Jews), and said they quickly fled the scene. He further alleged his father had discovered "Death to the Arabs" graffiti some 150 meters from his house, and that five "settlers" had cursed and pelted him with stones.
The complaint prompted the police's Nationalistic Crimes Division to open an investigation - at which point the complainant's story quickly unraveled.
Using advanced investigative technology, investigators' suspicions soon began to mount that no such incident ever occurred. Police subsequently opened an investigation into the complainants themselves, during which they discovered numerous contradictions between testimonies provided by the alleged victims and other witnesses.
Moreover, the key complainant failed a polygraph test, and forensics teams said they found no traces whatsoever of any flammable substances at the scene of the alleged incident.
As a result, the Palestinian complainant now faces a number of criminal charges himself, including obstructing a police investigation, and providing false information about a felony. He also faces charges of committing offenses against the maintenance of public order, since such false testimonies are frequently seized upon by terrorist groups to incite violence against Israeli Jews.
The suspect has since been detained and his remand in custody extended twice to April 4. 
The investigation has now been handed over to the IDF Prosecution, which is expected to file a formal indictment soon.
In a statement, the Israel Police force emphasized: "From the investigation into the arson of the home in Duma... it is clear that every incident in which there is suspicion of a nationalistic crime is investigated with professionalism, decisiveness, and using all the resources available to the Israeli police and General Security Services (Shin Bet/ISA), in order to identify and arrest the perpetrators."
Applying the same methods, the statement continued, police investigating the incident in question discovered inconsistencies which ultimately led to the complainant being exposed as having fabricated the "attack."
"During the investigation of the most recent incidents, suspicions emerged that the complainants had lodged fabricated reports," setting a fire themselves and then attempting to pin the incident on local Jews in a bid to "harm the delicate fabric of life during a complicated security situation."
The statement added that police view such false reports as "severe," and would take all necessary legal measures to ensure the criminals are brought to justice.