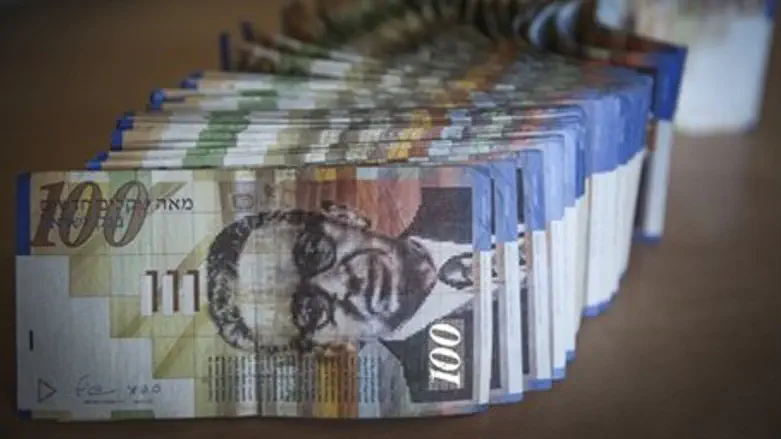 (Illustration)
Flash 90
The Knesset has passed a law capping the annual salaries of bank executives at 2.5 million shekels ($658,000 US), described as among the world's toughest such restrictions.
The law, approved late Monday, says no salary in the financial sector can be more than 35 times that of the lowest-paid worker in the same company, with a ceiling of 2.5 million shekels.
A statement issued just before midnight, quoting Finance Committee Chair Moshe Gafni (UTJ), said the law "deals with a problem of morals and values concerning the excessive salaries of those who undertake to manage the public's money."
The Association of Banks in Israel is said to be considering an appeal to the Supreme Court against the legislation but it had no official comment on Tuesday.
The high cost of living is a major concern in Israel and a key issue for Finance Minister Moshe Kahlon (Kulanu), who pushed for the legislation, approved by a vote of 56 to zero in the 120-seat Knesset.
Prime Minister Binyamin Netanyahu has taken a pro-business stance, but needs Kahlon's Kulanu party to maintain his majority.
Interviewed on public radio last week the director of Netanyahu's office said he had given Kahlon his backing on the bankers' salaries bill but did not want to see the measure extended to other industries.
"This is an important reform by the finance minister and the prime minister supports him on the matter," Eli Groner told the radio.
"At the same time, we do not think it would be right to extend it to other sectors.'
Netanyahu has not yet publicly commented on the passage of the law.
On Sunday, the Supreme Court struck down a landmark deal for the exploitation of Israel's Mediterranean gas reserves, drawing fire from Netanyahu, who warned that the country was acquiring a reputation for being hostile to business.
"Israel is perceived as a country with exaggerated legal intervention, in which it is hard to do business," he said in a statement.
AFP contributed to this report.