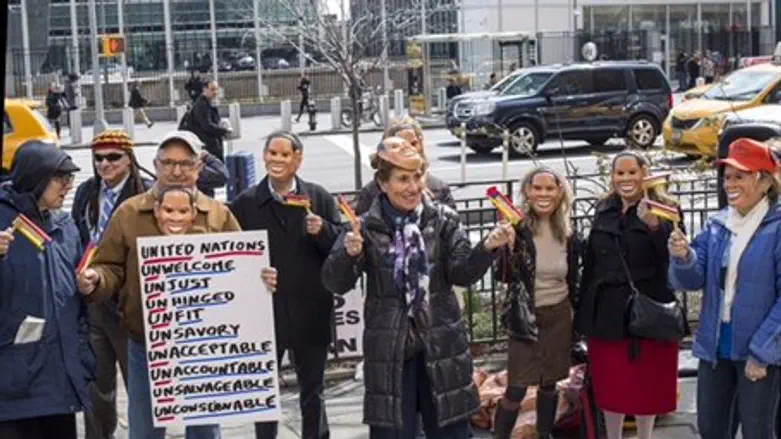 AFSI protest outside UN HQ
Charlie Bernhaut
Americans for a Safe Israel (AFSI) held a Purim megillah reading and demonstration with masks and groggers in front of the United Nations headquarters in New York on Thursday.
The purpose of the protest was "to celebrate the Jewish victory over the evil Haman and to expose today's Hamans, many who are housed in the UN, or resort to the UN to support their evil plans," explained AFSI's executive director, Helen Freedman.
Freedman referred to the UN as "the United Abominable Nations."
A sign held up by a one of the demonstrators read: "United Nations, UNwelcome, UNjust, UNhinged, UNfit, UNsavory, UNacceptable, UNaccountable, UNsalvageable, UNconscionable."
A few days earlier, it was terror survivor Kay Wilson who blasted the UN in the course of a demonstration outside the UNHQ, and in a two-minute speech inside the building, where she addressed the UNHRC.
"The United Nations Human Rights Council immorally whitewashes terrorism as helplessness and frustration," Wilson told the UNHRC.
"Gagged with prejudice, bound with bigotry or held hostage by hate, and ineffective to do the goodness that will enhance people's lives, may this council be set free, liberated to embrace both the integrity and impartiality needed to make our region a better place," she concluded.