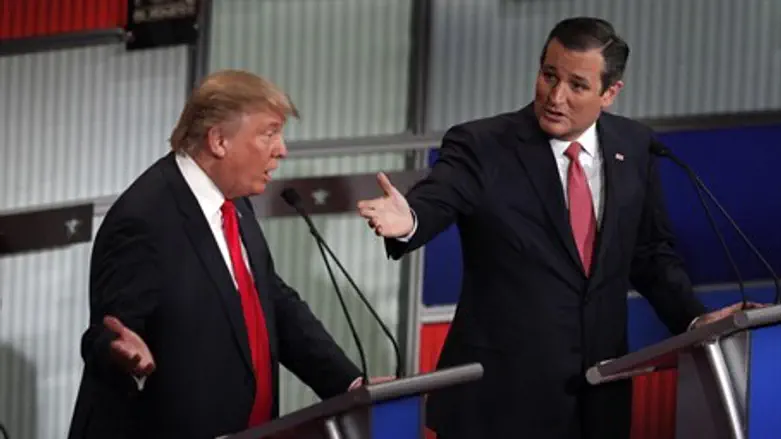 Trump and Cruz
Reuters
Donald Trump and Ted Cruz both gave pro-Israel speeches at the AIPAC Policy Conference this week, but those speeches have not helped to improve their standing among American Jews, a new poll released Friday shows, according to the Jewish Insider.
The Gallup poll showed that Cruz is the least liked candidate in the race for president among Jewish voters, and also that most American Jews have an unfavorable view of both he and Trump.
The poll, which was conducted January 2 to March 21, showed that 72 percent of Jewish Americans have an unfavorable view of both Cruz and Trump. 24 percent see Trump as favorable, while only 20 percent have a favorable opinion of Cruz.
Ohio Governor John Kasich, the third Republican presidential candidate who has not had much success in the primaries thus far, is the only Republican candidate who has a positive image among Jewish Americans, found the poll.
The poll also found that 64% of American Jews identify with or lean toward the Democratic Party, while only 29% identify with or lean toward the Republican Party.
The poll also showed tepid support for the proposal to move the America embassy from Tel Aviv to Jerusalem, a centerpiece of Cruz's campaign, and one which Trump expressed support for as well this week.
Only 24 percent of Americans support moving the embassy to Jerusalem, while 20 percent disagree with the proposal, and 56 percent said they don't know enough about it to have an opinion.
(Arutz Sheva's North American desk is keeping you updated until the start of Shabbat in New York. The time posted automatically on all Arutz Sheva articles, however, is Israeli time.)