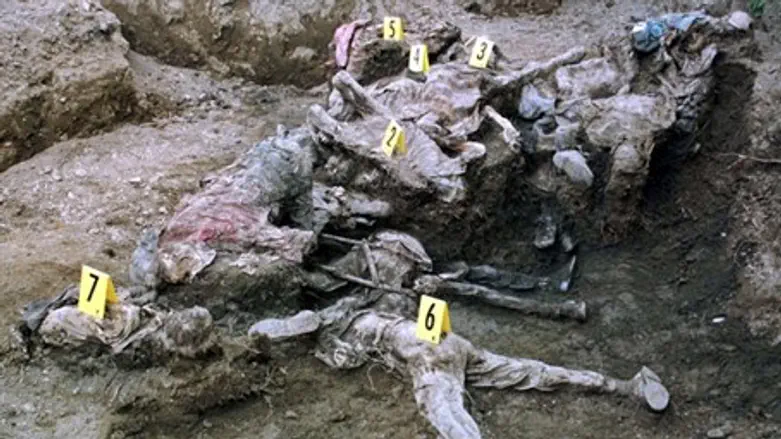 Muslim remains near Srebernica
Reuters
A UN war crimes tribunal on Thursday found former Bosnian Serb leader Radovan Karadzic guilty of genocide, war crimes and crimes against humanity in Srebrenica and other areas of Bosnia, in the 1992-95 war that left about 100,000 people dead. 
The so-called "Butcher of Bosnia" was declared guilty of orchestrating an array of Serb atrocities.
Karadzic was acquitted on one of two charges of genocide in Muslim regions of Bosnia. He faced a maximum life sentence but was sentenced to 40 years in prison, including the eight years he has already spent behind bars.
Karadzic was being tried at the International Criminal Tribunal for the former Yugoslavia in The Hague, Netherlands. He faced a total of 11 charges, including murder, terror and unlawful attacks on civilians. He can appeal the ruling.
One of the crimes he was convicted of was the massacre of about 8,000 Muslim men and boys in Srebrenica in 1995, considered the worst atrocity in Europe since World War II.
He was also held responsible for overseeing the 44-month siege of the Bosnian capital, Sarajevo.
Karadzic denied the charges. He defended himself during his trial, which lasted almost 500 days, and claimed that he had tried to prevent war during his time as head of the self-styled Bosnian Serb Republic.
A former psychiatrist, Karadzic avoided capture for 11 years after the war. At one point he grew long hair and a beard and adopted a fake name to live openly as a faith healer in Serbia. He was captured in 2008.
The trial is considered to be a milestone for the UN tribunal and for international law. Karadzic's conviction is expected to make international tribunals stronger, with regard to the criminal responsibility of political leaders for the actions of forces under their control.
Serbian President Slobodan Milosevic, accused of fomenting war in the Balkans in the 1990s, died in his cell in The Hague in 2006 before judges delivered their verdicts in his trial.