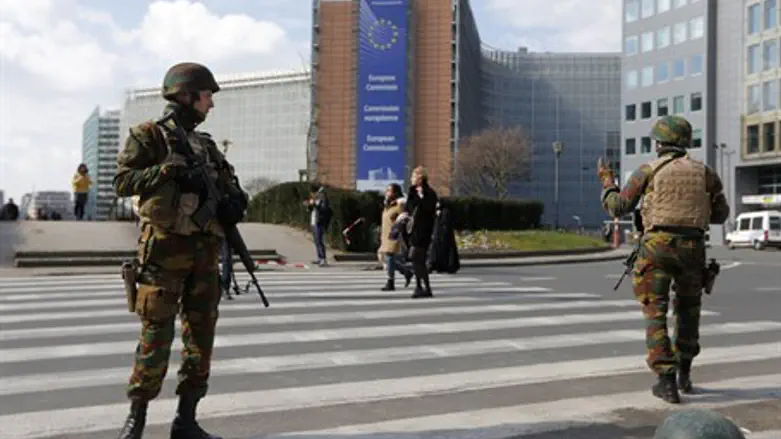 Soldiers guard European Commission in Brussels following bombings
Reuters
Turkey said Wednesday it had detained and then deported Ibrahim El Bakraoui, one of the two suicide bombers at Brussels airport, and accused the Belgian authorities of failing to confirm his links to terror.
President Recep Tayyip Erdogan said Turkish authorities detained the attacker in June last year in Gaziantep, close to the Syrian border, and then deported the "foreign terrorist fighter" to the Netherlands at his request.
A Turkish official confirmed to AFP that the attacker in question was 30-year-old Ibrahim El Bakraoui, a Belgian citizen who was one of the two suicide bombers who blew themselves up at Brussels airport on Tuesday.
"One of the Brussels attackers was detained in Gaziantep and then deported," Erdogan told reporters in Ankara.
Erdogan said the Belgian authorities had failed to confirm the suspect's links to terrorism "despite our warnings" following his deportation.
He said Belgian consular authorities were formally notified of his deportation on July 14, 2015, adding that he was then released by the Belgian authorities, without giving a timeframe.  
"Despite our warnings that this person was a foreign terrorist fighter, the Belgian authorities could not identify a link to terrorism," he said.
Erdogan said the man had initially been deported to the Netherlands at his own request and that Dutch authorities had been informed.
He did not specify how he had been transferred from the Netherlands to Belgium, where 31 people died in the bomb attacks at the capital's airport and on a metro train.
El Bakraoui's brother Khalid, 27, blew himself at the Maalbeek metro station in the heart of the European district in Brussels.
The second suicide bomber at the airport has been identified as Najim Laachraoui, whose DNA had been found on explosives linked to the Paris attacks in November.
"I believe that we can work this out [the fight against terror] if world leaders form an alliance against terror. For that, we need to redefine global terror and terrorists," Erdogan said.
Turkey has previously complained that Western countries did not heed warnings of the dangers posed by jihadists it had expelled back to Europe after arresting them on the Syrian border.
European officials have also urged Turkey to improve intelligence sharing and praised an increase in cooperation in recent months.
Turkey says it alerted France on two occasions that one of the assailants in the Paris attacks was a potential threat after he traveled to the country in 2013, likely on his way to Syria. But officials say they never received a response from Paris.
AFP contributed to this report