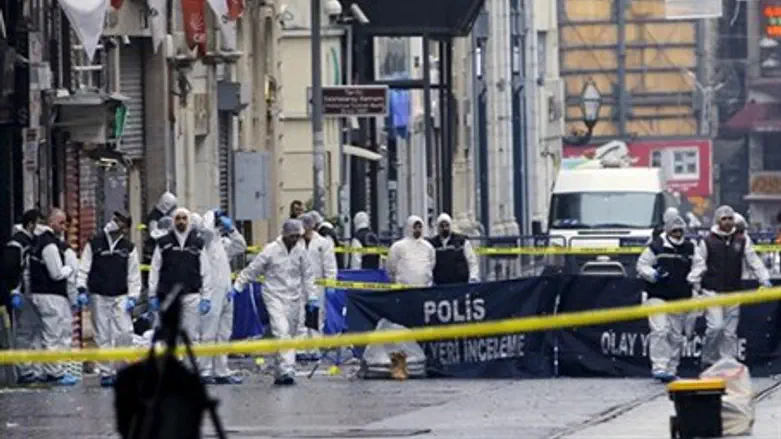 Scene of Istanbul bombing
REUTERS/Huseyin Aldemir
Mehmet Ozturk, the Turkish Islamic State (ISIS) terrorist who conducted a lethal bombing in Istanbul on Saturday targeting Israeli tourists, was known to Turkish intelligence services but not tracked, according to local security sources.
Ozturk conducted a suicide bombing after having followed a group of Israeli tourists from their hotel. He murdered three Israelis as well as one Iranian, and wounded a total of 39 others including 11 Israelis.
Turkish security and intelligence sources cited by Hurriyet Daily News on Tuesday revealed that he had been identified as a "supporter of a terrorist group," and repeatedly traveled to Syria - and yet he was not on the national judiciary informatics system (UYAP) and was not being actively tracked.
According to the sources, he was not on the informatics system because "his family did not notify the police about his disappearance or his membership" to ISIS. He likewise did not have a criminal record, meaning he could not be detained at road checks or through his hotel registration.
Regarding Ozturk's identification, the sources said his head was clearly identifiable after the explosion. The National Intelligence Agency (MIT) identified him as Ozturk, although the security directorate identified him as Savas Yildiz, and only after DNA tests were conducted on samples from the two families was his true identity established, further showing the effects of his not being on the UYAP system.
Ozturk traveled between Turkey and Syria numerous times, and was determined as being "in contact" with members of terrorist groups. Pictures of him taken during passport control checks were filed as a "supporter of a terrorist group" in security archives.
Further highlighting the shortcomings of police action is the fact that Ozturk was captured in 2015 in the Elbeyli district of the province of Kilis in the south, after crossing into Turkey from Syria illegally with his brother who was identified by the initials Y.O., as well as a number of other people. He was freed following an ID check because his name was not on the wanted list.
The sources said Ozturk was not searched by police because his "blacklisting" as a terror supporter did not have legal ramifications, and a search record from the prosecutors was needed to take further action against him.