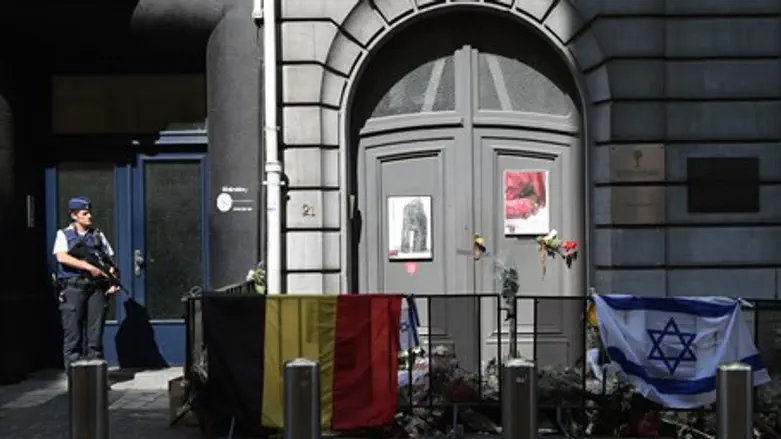 Jewish Museum in Brussels
Reuters
Tuesday's terror attacks in Belgium can be expected to prod some local Jews to leave, and many of these will opt for Israel as their destination, if recent patterns hold up.
Aliyah – or Jewish immigration to Israel – from Belgium rose 25% last year, according to information recently provided by Arielle Di Porto, Director of Aliyah at the Jewish Agency. Di Porto also told the Knesset last month that 10,000 Jews made Aliyah from Western Europe last year, 8,000 of them from France.
It is generally assumed that the increase in emigration from Belgium is connected to the rise in anti-Semitism and terror attacks in Belgium, which used to be considered a very safe place for Jews.
The Jewish community in Belgium is estimated at around 42,000, of whom close to half live in Antwerp.
A November report in the British Telegraph estimated the number of Belgian Jews who move to Israel annually at 200, citing Betty Dan, a former president of Belgium's Zionist association, who helps organize property fairs for Belgians who move to Israel. Following November's massacre in Paris, she began receiving telephone calls from people seeking information on moving at a rate of five a day, compared to one a week previously.
"A few years ago it was the pensioners going, who wanted the Israeli sun," said Dan, "Now it is young people with children who sell their houses and leave everything. They are scared."
"It is a painful thing. I am a real Belgian – my country, my culture and my friends are here," added Dan, who has been the manager of a Jewish radio station for 25 years. "My daughter never, never, never thought to leave. Now, she says of her little boy, what is his future here? We don't feel safe."
Idyllic years are over
In a series of interviews conducted before the multiple attacks in Paris last November, Belgian Jews told CBN News that life in Belgium was good, but "the possibility of danger was ever present."
"The idyllic years are over. The tranquil years are definitely over," Jewish leader and linguist Julien Klener said. "You can go to a grocery [store] and all of a sudden someone can shoot you down. You can go to a museum and the same can happen."
"If we think it's not secure enough to let them go outside during the day, we keep all the students here during the day," Michael Greenberg, the head of Jewish Studies at the Jewish Tachkemoni School said. "Today you have anti-Semitism from the Left and the extreme Left; anti-Semitism that is going into a form that is called anti-Zionism and you have anti-Semitism from the Arab and Muslim communities,"
Rabbi Shimon Lasker of the Beth Chabad Synagogue in Brussels said that while he personally thinks reports of anti-Semitism have been overblown, "The Jewish community of Belgium, I'm talking about people who were born in Belgium, are starting to ask themselves, is Belgium the place for the future of their children or the future of them to continue living."
In May 2014, Mehdi Nemmouche, 29, a Frenchman of Algerian descent who had spent more than a year in Syria, went on a rampage at the Jewish museum in Brussels' Sablon district. His victims included an Israeli couple and a French volunteer at the museum, who were all killed instantly. Another man, a museum employee, was left in a critical condition and died shortly afterwards.
In November of 2014, a rabbi in Antwerp was stabbed in the throat on his way to deliver a sermon.
Official Belgian figures recorded 130 reports of anti-Semitic incidents in 2014, a 10-year high and a 50 per cent increase over the previous year.
Some families have removed the mezuzah from their front doors to avoid attention.
Belgium's security services and politicians have been facing intense criticism over how Brussels, and in particular the tiny commune of Molenbeek, have become an hotbed of terrorist plots.