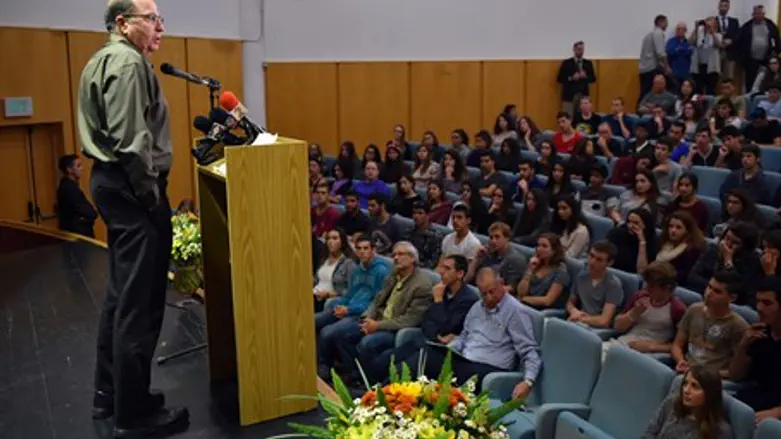 Ya'alon speaking with high school students
Ariel Harmoni/Defense Ministry
Defense Minister Moshe Ya'alon (Likud) spoke with high school students in Kfar Blum today, during which time he described Breaking the Silence's actions as "treachery."
Ya'alon was discussing the recent exposé that showed Breaking the Silence gathering classified information from soldiers.
"What was exposed on Channel 2 is that they are asking soldiers questions that aren't even connected to the manner or ethics in their operations, and including all kinds of question on what are, effectively, operational secrets," he said.
"So whether they are putting it to use - which would be very serious - or spreading this information around, it's treachery. If they are only keeping it for themselves, it's still treachery. Who holds on to this information? Why do they need to know what tools we are using - in the air, in the water, on the land?"
The program aired last week and was based on information gathered by Ad Kan's hidden cameras. The recordings feature Breaking the Silence gathering testimony from released soldiers and questioning them on, among other issues, notifications about tunnels along the border with Gaza, tools used by the IDF, troop placements, and operational procedures.