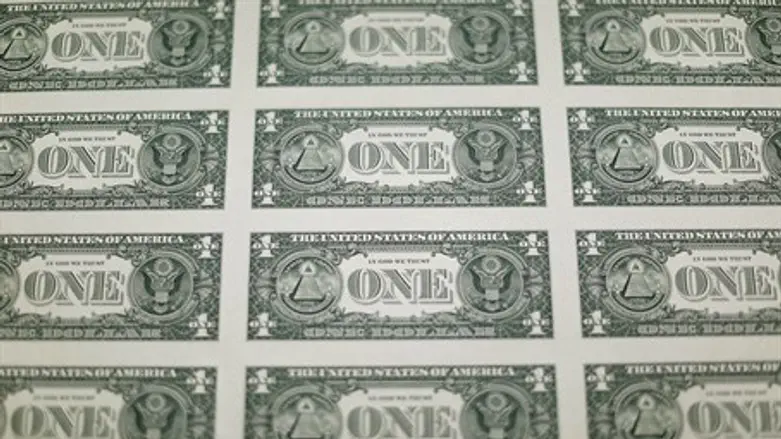 Dollar bills (illustration)
Reuters
Members of the United States Congress are delaying a payment of $159 million in aid allocated for the Palestinian Authority (PA) in an effort to pressure the PA to relaunch negotiations with Israel, the PLO's ambassador to Washington said Sunday, according to the Ma'an news agency.
According to the agency, the envoy, Maen Erekat, confirmed earlier reports that Congress was blocking the payment, which came at the request of House Republican Kay Granger, the Chairwoman of the House Appropriations Subcommittee on State-Foreign Operations, who explained her request in the fact that the PA supports terrorism.
According to Ma'an, the Obama administration allocated $440 million in aid to the PA, including $131 million for economic and development projects by USAID and $70 million for PA agencies and security agencies, while $80 million in aid was deducted following Israeli criticism of the PA's incitement against Israel last October.
Erekat claimed that some "pro-Israel" Congress members are continuing to pressure the PA to relaunch diplomatic negotiations with Israel, and prevent Palestinians from joining international organizations and conventions.
The United States' aid to the PA has continuously made headlines in recent years, and Washington has several times cut – and subsequently resumed – the financial aid to the PA.
Previously,this issue made headlines was when the PA unilaterally applied to join the International Criminal Court (ICC). The Obama administration indicated at the time it was reviewing its annual $440 million aid package to the PA because of the decision.
Republican Senator Rand Paul later introduced a bill that would immediately halt aid to the PA until it halts its effort to join the ICC.
In September of 2011, a $192 million aid package was frozen by Congress after the PA submitted a failed unilateral bid for United Nations membership.
In April of 2012, Obama bypassed a Congress block and signed a waiver declaring that aid to the Palestinian Authority is "important to the security interests of the United States.
Deputy Foreign Minister Tzipi Hotovely warned in an op-ed in The Wall Street Journal that billions in aid to the Palestinian Authority have been used to fund terrorism, instead of for the humanitarian and economic purposes they were earmarked for.
According to Ma'an, PLO Executive Committee member Hanan Ashrawi last week conducted a series of meetings in Washington, D.C., during which she discussed peace negotiations with Israel and urged Democratic Senator Jeff Merkley to pressure House Republicans to release the $159 million in aid.