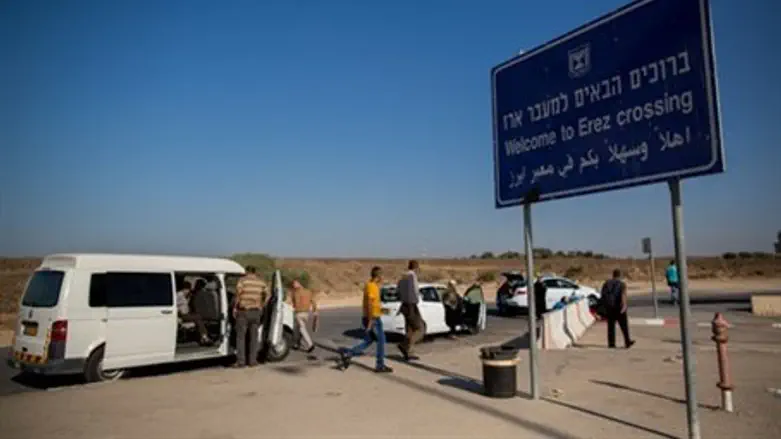 The Erez crossing
Photo: Yonatan Zindel, Flash 90
The Israeli Defense Ministry on Wednesday cancelled permits for Palestinian residents of Gaza to travel to Jerusalem to attend Friday prayers at the Temple Mount, due to rampant "exploitation and misuse" of the permits system.
Sources at the Palestinian liaison office said that Israel had called off the agreement, which previously allowed 200 Gazans above the age of 60 to worship at the Al-Aqsa Mosque as part of a ceasefire agreement that ended the 2014 Gaza war.
Israel ditched the arrangement, reporting that Palestinians were not returning to Gaza on the same day in violation of the agreement rules.
A spokesperson for Israel's Coordinator of Government Activities in the Territories (COGAT), a branch of the Defense Ministry, said that the permits were annulled because of "inappropriate misusing (of) the permit and inappropriately exploiting the Israeli civil policy."
"Any claims regarding the freezing of permits for prayers in the Temple Mount should be directed to those who choose to illegally exploit the permits at the expense of the rest of the public," said the spokesperson, adding that over a thousand Gazans are permitted to cross into Israel every day for a variety of purposes, including business affairs or medical treatment.
The spokesperson further stressed that the decision was temporary and that permits would be redistributed once the issue was "addressed by the Palestinian Civil Committee in the Gaza Strip."
The announcement comes a week after the Defense Ministry announced an ease on sanctions for Gazan Arabs. Movement in and out of Gaza is controlled by Israel via the Erez crossing, and by Egypt at the Rafah border which mainly remains closed.
Israel has consistently granted permits for medical and humanitarian cases, as well as permitting students to leave and study abroad, and for Christians wanting to travel to Bethlehem for holidays.
Permission for Gazans to travel to Jerusalem for Friday prayers and during holidays such as Ramadan has also increased over the years, but COGAT has in the past revoked these in the wake of rocket attacks.