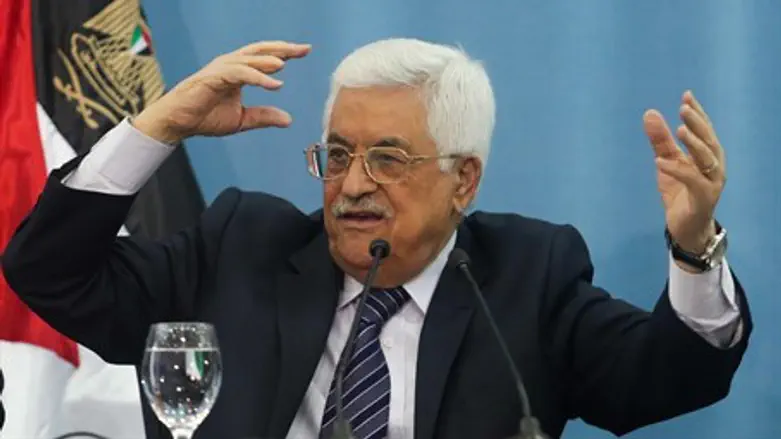 PA chaurman Mahmoud Abbas
Flash 90
Japan on Wednesday expressed its support for a French initiative that would see an international peace conference in an attempt to reach an agreement between Israel and the Palestinian Authority (PA), the Ma'an news agency reported.
According to the report, PA chairman Mahmoud Abbas, during a meeting with the Japanese envoy to the Middle East, Masahiro Chono, called for the planning and execution of the French-initiated international peace conference to be expedited.
During the meeting, which was held in Abbas' Ramallah headquarters, he reportedly stressed the importance of Japan being a member in the international support group for the proposed international peace conference due to Japan's "international political and economic role."
Chono, according to Ma'an, confirmed his country's support for the French initiative and its willingness to take part in the peace process with hopes to end the Palestinian-Israeli conflict.
France, which announced the peace conference initiative in January, has threatened to unilaterally recognize the "State of Palestine" if its peace efforts fail.
But its new Foreign Minister, Jean-Marc Ayrault, backtracked on the threat last week, saying France would not "automatically" recognize a Palestinian state if its initiative fails.
On Tuesday, PA Foreign Minister Riad al-Malki and PLO Chief Negotiator Saeb Erekat met with the French Envoy for the Middle East, Pierre Vimont, to discuss the prospects of the international peace conference.
Vimot's meeting with Palestinian leadership followed meetings with their Israeli counterparts on Monday.
The PA has welcomed the French initiative, though it has also insisted on a United Nations resolution against Israeli "settlement building" ahead of any renewed peace process.
Prime Minister Binyamin Netanyahu has rejected the initiative , calling it "mystifying" and counterproductive and arguing that the proposal gives Palestinians no incentive to compromise.