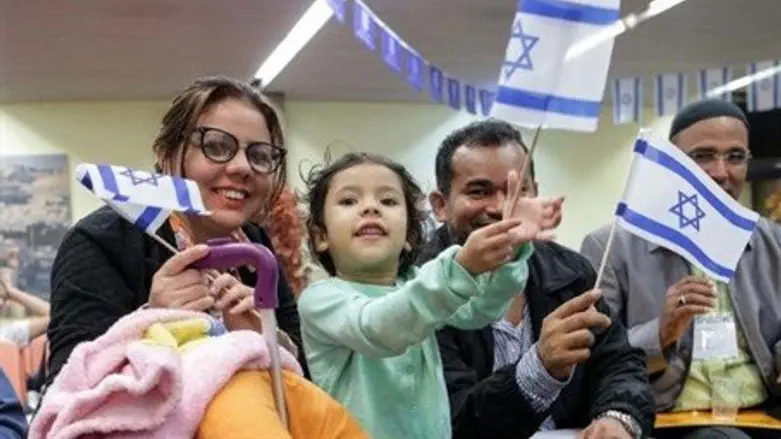 New olim from Brazil arrive in Israel
Zed Films
The Jewish Agency for Israel and the Ministry of Aliyah and Immigration Absorption put on a celebration to welcome dozens of new olim from Brazil today (Monday).
Dozens of people from São Paulo, Rio de Janeiro and Manaus landed at Ben Gurion Airport, ready to start their new lives as Israeli citizens. The group's members included a trained chef, an orthopedist and a student about to begin his doctorate in environmental studies. They are already heading out to homes across the country.
Representatives of OLEI – Organización Latinoamericana, España y Portugal en Israel (the Organization of Latin Americans, Spaniards, and Portuguese in Israel) and its Brazilian branch, Beit Brasil, which helps Brazilian immigrants integrate into Israeli society, also took part in the festivities.
About 120,000 Jews live in Brazil, making it home to the second-largest Jewish community in Latin America. It has also been a growing source of aliyah in recent years. According to the Ministry of Aliyah and the Jewish Agency, about 210 olim came from Brazil in 2013. This number grew to 300 in 2014 and 500 in 2015.
Revital Poleg, the head of the Jewish Agency's delegation in Brazil, says that 65 to 75 percent of these olim are young singles, couples and families under the age of 45. She expects that 2016 will see an even greater number of Brazilian immigrants to Israel and says that over 1,000 people have already begun the process.