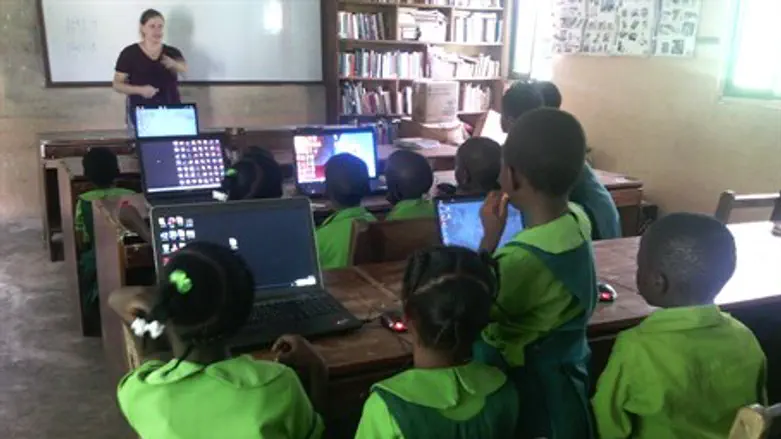 A Project TEN volunteer runs a computer class for children in a fishing village in Ghana
Project TEN Ghana Center Director Gonny Hyams
Despite its small size and relatively few natural resources, the State of Israel has forged a reputation as always being among the first to send emergency aid or rescue workers to countries in need.
From combating natural disasters in Africa, Asia, the Middle East, South Pacific, Southern and Central America and the Caribbean, to helping an English town clean up after devastating floods, and even stepping in to help in countries hostile to the Jewish state such as Iraq and in the case of Syrian refugees - Israel's aid work has gained international acclaim.
Now, the Jewish Agency for Israel is spearheading an initiative to further entrench that volunteering spirit, recruiting young people from Israel and around the world to volunteer in distressed communities in Africa, South America, and Israel, as part of the organization's Project TEN program.
A launch event was hosted by Israeli Consul General in New York Ido Aharoni and was attended by dozens of Jewish community leaders, diplomats, philanthropists, Jewish Agency representatives, and former participants in the program.
Chairman of the Executive of The Jewish Agency for Israel Natan Sharansky, said the initiative was a natural extension of the Jewish morals embodied by Israel and the Zionist movement.
"Through Project TEN, The Jewish Agency is creating a real opportunity for young Jewish people who want to be part of something bigger than themselves – to better their world through common work with young people like themselves from Israel and around the world," Sharansky said. "In so doing, Project TEN connects these young people's vision of a better future with their Jewish roots. Making this wonderful initiative happen is yet another way for us  to concretize Jewish and Zionist values."
In recent weeks, hundreds of students at top American universities have participated in on-campus information sessions hosted by Project TEN in order to familiarize them with volunteer opportunities at the three international centers currently operating in Winneba, Ghana; Gondar, Ethiopia; and Oaxaca, Mexico.
Volunteers may also choose to serve closer to home; the project currently operates two centers for disadvantaged communities in Israel as well, located in the southern city of Arad and Kibbutz Harduf in northern Israel. Volunteers there will run programs to empower at-risk teens, olim, Bedouin youth, and individuals with special needs.
Billed as "the Jewish Peace Corps," Project TEN was created by The Jewish Agency three years ago to offer "young people from Israel and around the world the opportunity to live together in distressed communities and realize the Jewish values of tzedakah (social justice) and tikkun olam (repairing the world) by helping empower local residents."
Participants each undergo tailor-made volunteer programs spanning several weeks or months, depending on their availability and preferences. Together, participants volunteer in educational, agricultural, and health-related initiatives, working together with local organizations and Jewish groups active in the area.
The program's ultimate goal is to develop local residents' leadership skills and empower them to create models for sustainable development well after the volunteers return to their home countries. The volunteers themselves return to their communities with a greater drive to engage in local activism and become involved in Jewish life.
In Ghana, for example, Project TEN volunteers serve in the fishing town of Winneba, where they work with local residents and the fishermen's children. There, they run an educational center in which local children receive enrichment classes in a range of subjects, and a mobile computer lab that provides digital knowledge to students whose prior exposure to computers was limited to sketches of keyboards on paper.
The volunteers also work in the fishing village of Akosua, which maintains some of the world's most ancient fishing practices, teaching local children in a coconut hut.
In Mexico, volunteers serve in Oaxaca, where a series of natural disasters have prompted the creation of a Project TEN center to help local residents improve their preparedness and raise their standard of living. The center is run in partnership with the Mexican Jewish organization CADENA, which specializes in serving communities struck by national disasters. The volunteers work in dozens of far-flung, isolated communities spread across the vast, mountainous region.
Two additional volunteer centers are set to open in the coming year in Africa and South America, according to project TEN Director Yarden Zornberg.
One will be hosted by the Jewish community of Durban, South Africa, where volunteers will work with local tribespeople, while the other will be located in Cusco, Peru, a popular hotspot for Israeli tourists, offering backpackers the opportunity to combine their treks with volunteerism.
According to Zornberg, more than one thousand volunteers are expected to serve in all seven Project TEN centers, engaging in activism over extended periods and realizing core Jewish values in the process.