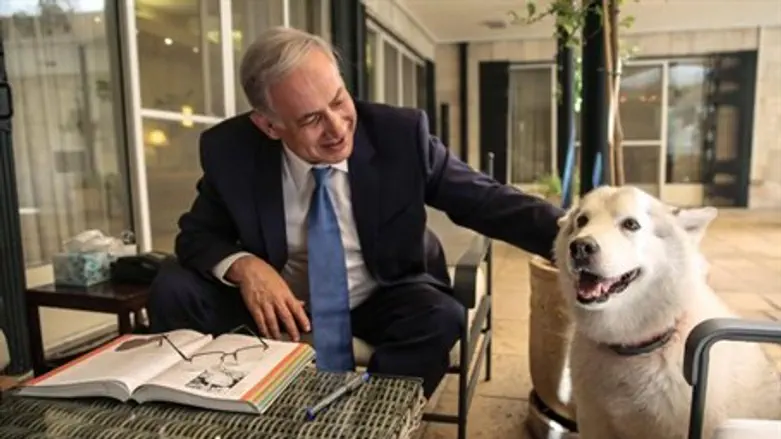 Netanyahu and Kaiya
Facebook
Oops... she did it again: Kaiya, Prime Minister Binyamin Netanyahu's dog, bit a security guard stationed at the prime minister's residence.
The incident, which is hardly the first, occurred recently and was hidden from the public, according to a report by Yedioth Ahronoth. The security guard required medical treatment as a result of the bite. 
Netanyahu's office declined to comment.
About four months ago, Kaiya was quarantined for ten days  after biting two people at a Hanukkah candle lighting ceremony in the prime minister's residence - MK Sharren Haskel (Likud) and the husband of Deputy Foreign Minister Tzipi Hotovely.
However, that was not the first time - Kaiya bit Netanyahu back in July, just several days after being adopted, and Netanyahu's doctors decided not to take any chances and to administer a rabies vaccine.
The Netanyahus adopted Kaiya after the Prime Minister's son, Avner, pleaded with his parents to save the life of the "gentle" ten-year-old dog who was about to be put down.
Apparently the bite didn't damper Netanyahu's affection for the dog, as he put posts on Facebook about "how much light Kaiya has brought to our home," and even introduced US Secretary of State John Kerry to the dog during his recent visit.
Binyamin Netanyahu introduces John Kerry to his dog Kaiya
Photo: Matty Stern/U.S. Embassy Tel Aviv/Flash 90