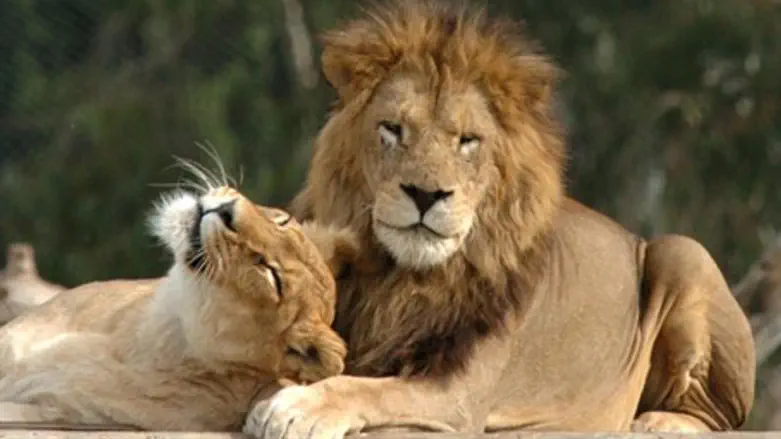 Lion and cub (illustration)
Flash 90
Israel saved an ailing lion from the Hamas terror stronghold of Gaza to a Palestinian zoo in Samaria on Thursday, rescuing it from the Hamas enclave that has suffered economically as the terror group channels international funds into its rocket and tunnel building projects.
The lion was taken from a zoo in Rafah to the Erez crossing into Israel, said COGAT, a defense ministry body which coordinates Israeli activity in Palestinian controlled territories.
The lion was then driven to a zoo near Tulkarem in Samaria, it said in a statement.
A COGAT spokeswoman said a Gaza agriculture ministry official had asked an Israeli counterpart for the transfer, at least on a temporary basis.
Gaza, run by the local Muslim Brotherhood offshoot Hamas and where 80% of the population rely on foreign aid, has three zoos which are no longer open to the public because of a severe lack of funding.
In one zoo, in the southern city of Khan Yunis, only a deer, a pelican, an ostrich, two porcupines and a tiger remain of the hundreds of animals bought in for its opening in 2007.
In July 2015, Israel facilitated the transfer to Jordan of two lion cubs taken in by a Gaza "refugee camp" resident who could no longer afford their high maintenance costs.
The previous year during Operation Protective Edge, three lions were also sent from Gaza to Jordan after the area of their zoo became a conflict zone in the terror war launched by Hamas, marking its third such war.
AFP contributed to this report.