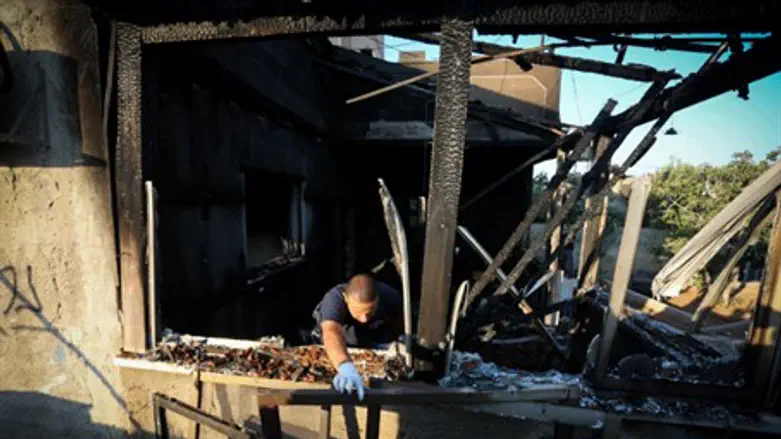 Scene of arson attack, Duma
Flash 90
Major Spanish football team Real Madrid will be welcoming an Arab boy whose family was murdered in an arson attack last year, the Palestinian Football Federation said Saturday.
Ahmad Dawabsha, 5, was the sole survivor of an arson attack on his family's home in Duma, Samaria, on July 30 last year. Israel's State Prosecution is reportedly set to charge four Jews in carrying out the attack.
The child lost both his parents, Sa'ad and Riham, as well as his 18-month-old brother, Ali.
Federation president Jibril Rajoub said in a statement that Real Madrid "sympathized with Dawabsha after a photo of him wearing the team's uniform in his hospital bed went viral," and agreed to host him later this month.
According to Bethlehm-based news agency Ma'an, the boy will be accompanied by two adult family members, as well as a representative of the Palestinian Real Madrid supporters club.
Rajoub said the Spanish team's move - which was coordinated by the Palestinian ambassador to Spain Kifah Udah - was "appreciated, and would have humanitarian dimensions."
A campaign for Ahmad to meet his idol Cristiano Ronaldo has reportedly garnered international support in past months.
Attacks against Arab civilians are rarely perpetrated by Jews in Israel. Terror attacks by Arabs against Jews, however, are a daily occurrence.