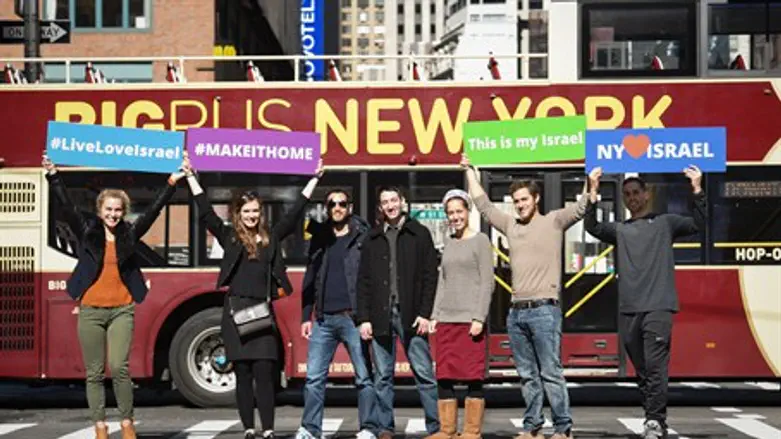 Olim celebrating in New York
Shahar Azran
More than a thousand US Jews of all ages took part in Nefesh B'Nefesh's Mega Event in New York's Times Square yesterday (Sunday).
The event, which is Nefesh B'Nefesh's largest aliyah event of the year and one of the largest aliyah fairs in the world, kicked off a week of similar expos in Los Angeles, Florida, Toronto, Montreal, Chicago, Baltimore and Washington, all aimed at helping potential olim come to Israel.
Nefesh B'Nefesh organized the exhibit with the Jewish Agency, the Ministry of Aliyah and Immigrant Absorption and the Jewish National Fund. There were speeches and seminars given by experts in finance, business, communities and education, as well as options for young people interested in making aliyah and joining the IDF as lone soldiers.
Sigal Shaltiel-Halevy, the director of Israel's Ministry for Development of the Negev and the Galilee, and other ministry representatives spoke about new benefits for olim choosing to live in the periphery. These are in addition to the Go North and Go South programs that offer foundational support for qualifying olim.
In addition, the expo featured service providers offering potential olim explanations about the processes involved in moving to Israel, including real estate, insurance, moving companies, and financial advisers.
Special information was provided for doctors and paramedical professionals by representatives from the Health Ministry's licensing branch. For the first time, olim were able to submit official documents and begin the medical licensing process in the fields of general medicine, dentistry, physiotherapy, speech therapy, nutrition, occupational therapy, nursing, pharmaceuticals and more. Ministry representatives also held private meetings and gave special lectures and workshops.
Rabbi Yehoshua Fass, the founder and director of Nefesh B'Nefesh, said that "the New York expo and the many conferences that we will hold across North America next week show the great potential in North American aliyah that still lies in wait for Israel. Every March we are honored to meet thousands of American Jews who want to take the meaningful step and to build their new lives in Israel. We have the privilege of helping each and every one of them, thousands every year, to turn their Zionist dream into reality and to translate this into personal, professional, and familial milestones so that ultimately we will see them building a home in Israel."