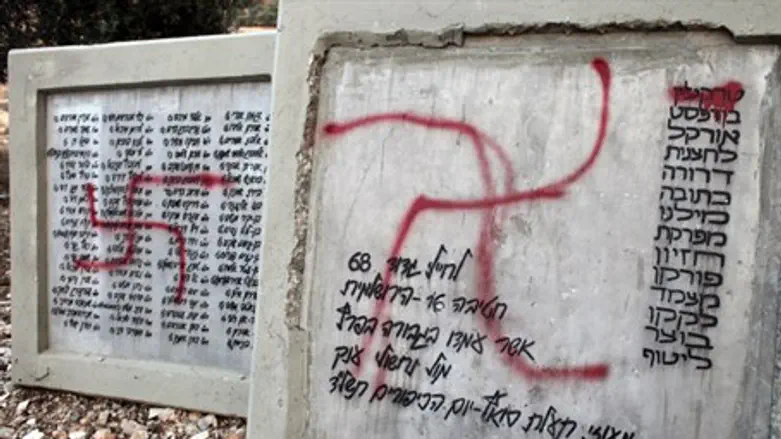 Swastika graffiti (illustration)
Flash 90
In a poll among leaders of Jewish communities in Europe, it was revealed that 40% of respondents believe that anti-Semitism is one of the biggest threats to the future of Jewish life in their country.
The survey further exposed that other pressing issues included weakness of Jewish organizations (55%), alienation of Jews from Jewish life (61%) and demographic decline (51%).
The figures appeared last Monday in the Third Survey of European Jewish Leaders and Opinion Formers, a study published every four years by the International Center for Community Development for the American Jewish Joint Distribution Committee (JDC).
The 2016 results are the highest number recorded by the JDC since it launched its first survey in 2008. That year, only 10% of respondents ranked anti-Semitism as the most serious threat facing Jewish communities.
The results comply with other such surveys which show that the increasing concern is the result of increased hate crimes in Western Europe. In 2013, around one-third of European Jews responded to an EU survey saying they "seriously considered emigrating" because of anti-Semitism.
Even so, in all of JDC's survey's, the majority of respondents voted that the most serious threat facing their communities was due to "internal problems."
To real the full survey, click here.