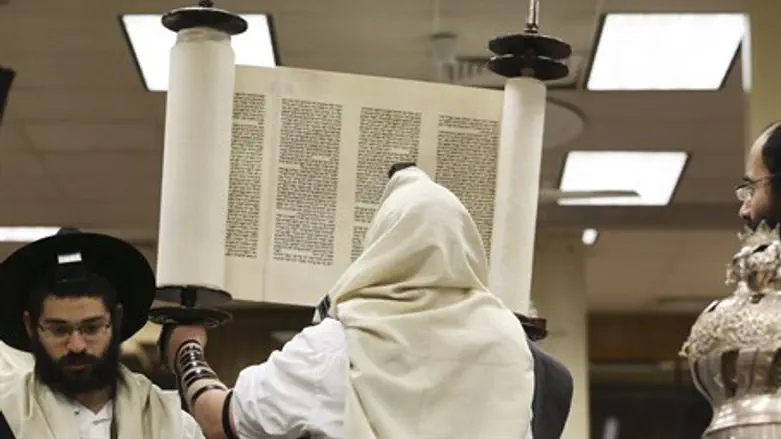 Torah scroll (illustrative)
Flash 90
A synagogue in the Italian town of Biella stores what has been identified as the world's oldest Torah scroll still currently in use.
Carbon-14 dating conducted by the Geo-chronology laboratory of the University of Illinois dated the scroll to around the year 1250 CE.
"This is exciting news that is of extraordinary importance for Italian Judaism," said Dario Disegni, President of the Foundation for the Preservation of Jewish Heritage in Italy.
In 2012, the Italian Torah was one of several antique scrolls examined by experts and has since undergone restoration.
Italian Sofer (scribe) Amadeo Spagnoletto explained to Italian media that it is not rare to discover ancient Torah scrolls, however, the Biella scroll is the oldest that is still kosher and used by a community.
"In this case the scroll has remained completely intact without a single piece of parchment substituted, from 1250 until today," he said.
While the Biella is the oldest scroll still in use, it does not hold the record for the oldest scroll ever to exist. In 2013, the University of Bologna library carbon dated a Torah scroll to between 1155 and 1225 CE.
University of Bologna Professor Mauro Perani explained how the scroll was obtained, saying, "It's very possible that at some time it came into the possession of a monastery, was later taken to Paris after Napoleon suppressed the monastic and religious orders, and finally restored to Bologna after Napoleon's collapse."
The Biella Torah scroll is due to return to its Italian home in a ceremony this upcoming Sunday.