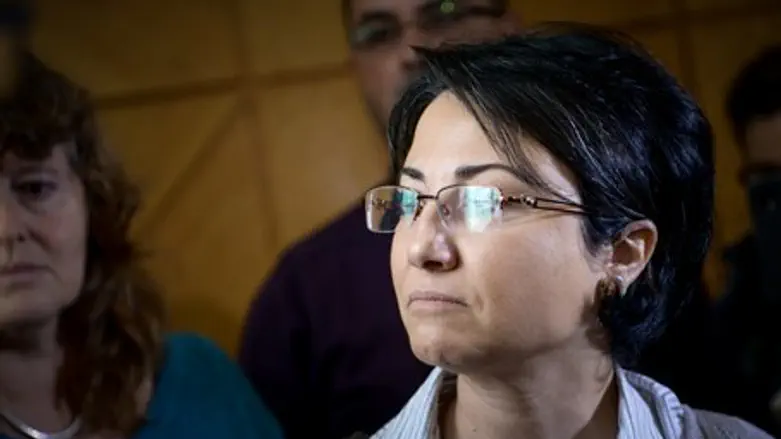 Hanin Zoabi
Basel Awidat/Flash 90
MK Hanin Zoabi (Joint List), the outspoken anti-Israel representative of the Arab nationalist Balad faction of the Joint List Party, is in Washington DC today, and State Department representatives are conspicuously mum about who she's been meeting with.
Zoabi visited the Arab Center Washington DC, a pro-PA political think tank this week. The rest of her itinerary, however, is something of a mystery.
The self-described "Palestinian MK" has drawn international attention recently as the target of proposed legislation which would allow the Knesset to expel members who express support for terrorism or negate Israel as a Jewish state. The controversial proposal has aroused criticism among Netanyahu critics both in Israel and abroad.
When a curious journalist smelled a story after hearing that Zoabi had held a number of "meetings" in the capitol, he asked US State Department spokesman Mark Toner in a daily briefing on Wednesday if he could divulge who Zoabi had met with.
Toner declined to answer the question, responding "I don't - I can't - I apologize", claiming he was not privy to that information. 
Last month Zoabi was sentenced after pleading guilty to calling Israeli Arabs serving in the Israeli police "traitors". She was handed a six month probation and fined 3,000 shekels for the confrontation which occurred during a demonstration.
She also infamously took part in the Mavi Marmara flotilla, during which jihadists violently attacked Israeli soldiers in a bid to break Israel's blockade on Hamas-controlled Gaza, and regularly features in Hamas publications.