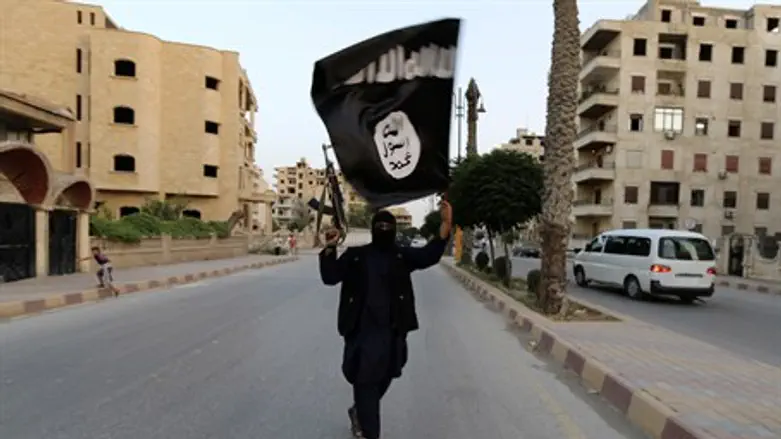 ISIS terrorist in Syria (file)
Reuters
Two Arab-Israeli youths from Nazareth and nearby Yafi'a in northern Israel have been indicted Thursday on suspicion of plotting terror attacks on behalf of ISIS.
Baha Al-Din Masuara, 19, and Ahmed Nabil Ahmed, 21, have been indicted on charged including providing support to an enemy during a time of war, making contact with a foreign agent, and support for the terrorist organization.
Under Shin Bet (Israel Security Agency) interrogation the suspects - who had sworn allegiance to ISIS and committed themselves to "jihad" in its name - admitted that in the past several months they had begun to pray at the Al Aqsa Mosque on Jerusalem's Temple Mount every Friday, and during one of their weekly trips there had decided to commit a shooting attack against security forces in Jerusalem.
Additionally, one of the terrorists planned to conduct a shooting attack against soldiers on the streets of Afula in northern Israel, as well as at the Jalame checkpoint into Samaria.
In preparation for their attack, the two had begun saving money to by a pistol to use in the attacks.
This is far from the first ISIS cell broken up by security forces. Previous cells have included both recruitment cells sending fighters to Syria and Iraq, as well as increasingly terror cells preparing to mount attacks on Israeli soil.
Most ISIS terror plots have been foiled in time by Israeli security forces, but the Shin Bet recently revealed that a February stabbing attack by an illegal infiltrator from Sudan was likely the jihadist group's first successful terror attack inside Israel.