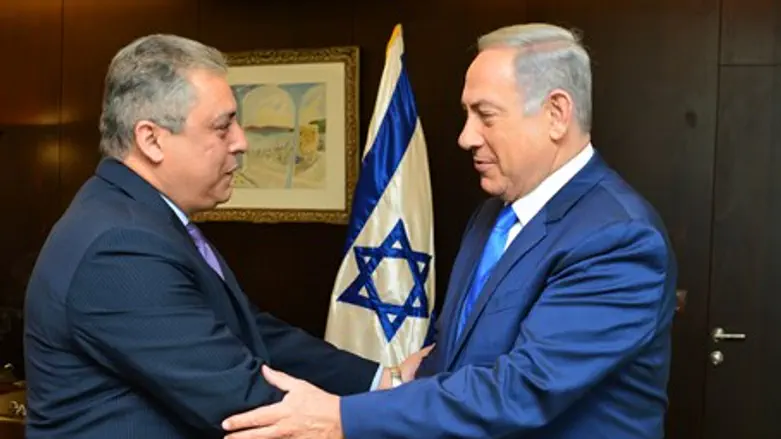 Netanyahu and Egyptian ambassador Hazem Khairat
Kobi Gideon/GPO
Prime Minister Binyamin Netanyahu on Monday met the new Egyptian ambassador to Israel, Hazem Khairat, several days after he presented his credentials to President Reuven Rivlin.
"Welcome to Israel, Mr. Ambassador!" Netanyahu wrote on his Facebook page following the meeting.
Netanyahu's office released a statement, saying the meeting dealt with relations between Israel and Egypt as well as the peace process between Israel and the Palestinian Authority.
The meeting was the first one between the prime minister and the ambassador since his appointment.
It comes amid tensions in Egypt over a meeting between parliamentarian Tawfik Okasha and Israel's ambassador to Egypt, Haim Koren.
Okasha has been coming under fire from his fellow lawmakers after inviting Koren to dinner, where the two reportedly discussed issues pertaining to Israel and Egypt.
Several parliamentarians in Egypt demanded that Okasha be sanctioned over the meeting, which they claimed shows willingness for "normalization with Israeli officials".
On Sunday, Okasha came under physical attack in parliament, as MP Kamal Ahmed furiously threw his shoe at his colleague in protest of his meeting with the Israeli envoy.
Ahmed was thrown out of the session by the parliament speaker, but so was Okasha according to the parliament website.
The incident reflects the fact that the Egypt-Israel peace treaty still comes under scrutiny in Egypt, more than 35 years after it was signed.
A recent pollfound that Egyptians see Israel as the "most hostile" of their neighbors, despite the treaty.
In 2013, the movement that led the opposition to former Muslim Brotherhood president Mohammed Morsi said it would target the peace treaty with Israel, by collecting signatures to a petition calling for its cancellation.
On the other hand, under the rule of President Abdel Fatah al-Sisi relations between Cairo and Jerusalem have strengthened, both in the realm of security coordination and in the diplomatic arena, as can be seen with the appointment of Khairat, which marked a period of more than three years without an Egyptian envoy to Israel.