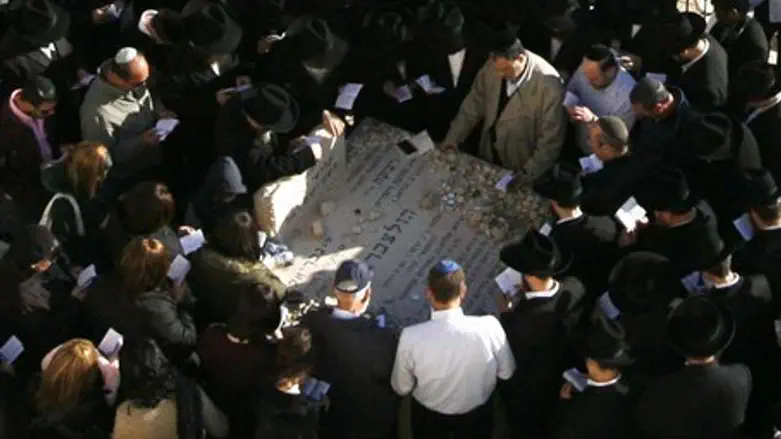 Graves of Rabbi Gavriel and Rivka Holtzberg
Photo: Miriam Alster / Flash 90.
Rabbi Israel Kozlovsky, a Chabad emissary in India, named his newborn son after Rabbi Gavriel Noach Holzberg who was murdered alongside his wife, Rivka, eight years ago at the Chabad house in Mumbai by Islamic terrorists.
The Brit Milah (circumcision) ceremony was attended by family who flew in to celebrate with the Chabad emissaries in Mumbai.
Rabbi Kozlovsky's brother-in-law, Rabbi Shimon Bergman, spoke of the occasion: "I am now in Mumbai, India. I came here for joyous occasion of the birth of a son to my dear sister and my brother-in-law, the emissaries here. Truth be told, a trip to Mumbai it is a bit difficult for me. Knowing that I am walking around the building where Jews were murdered, including emissaries Gavi and Rivki, is a difficult feeling to process. They died in a place where they planned to live and to sanctify God's name, they died for the sanctification of God."
"I remember being a young man sitting in Yeshiva in Kfar Chabad. The tense days after we learned the bad news. It was so sad. It was terrible to stand in front of their lifeless bodies and recite Tehilim (psalms)… But now, eight years later, the light has resurrected. The new emissaries, Israel and Chaya bring life back to this place," said Bergman.
"And here we are now at the Brit Milah of their newborn, in a building that emissaries were murdered, right on the same floor right… Where Gavriel Noach Holzberg was martyred, a new Gavriel Noach was born."