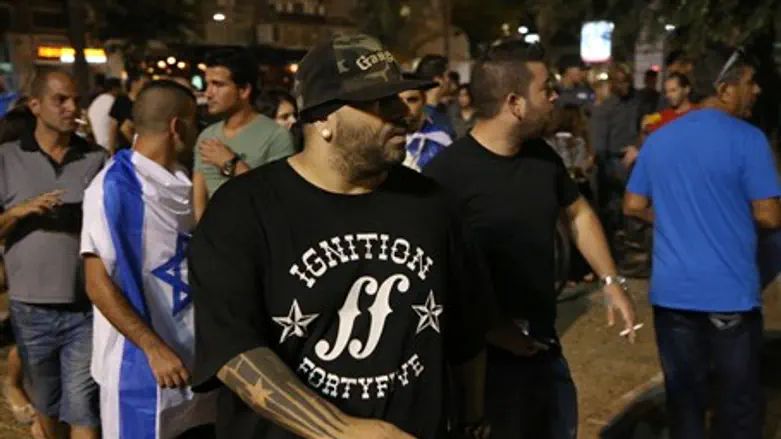 Yoav Eliasi, aka Hatzel
Flash 90
Rapper and nationalist icon Yoav Eliasi, aka Hatzel, has been receiving numerous death threats but the police deny him the right to bear a weapon in self-defense.
Eliasi displayed some of the threats he has received, which include threats to rape his wife in front of his young son and "empty 120 bullets" into him. In another threat, someone names the café he frequents and promises to cut out his tongue.
In addition, Eliasi's car's tires have been slashed numerous times and his car was vandalized in different ways.
"If, one day, I or one of the members of my family are hurt, the police will not be able to say they did not know," Hatzel wrote on his Facebook page.
He added that while junior police officers and detectives recommended that he be allowed to carry a gun, the senior officer in charge of the police department that supervises gun licenses refused his request, "because of fears over problems with promotions and politics, but I will not let up and I will go to the High Court with this matter."
Eliasi was interviewed about the death threats on Channel 10, but the channel also accused him of inciting to violence against Arabs.
MK Issawi Freij (Meretz) announced last week that he intends to file a complaint against Hatzel, for incitement to violence.
The two had a back and forth on Facebook after Freij published a post in which he urged Israelis to refrain from using the services of Livnat Poran, who heads an organization providing advice to Israelis on realizing their legal rights from the state, after Poran launched a new advertising campaign featuring Hatzel.
In response to Freij's call, Hatzel published a post of his own in which he called the Meretz MK a "terrorism supporter."
Freij is claiming that Hatzel's post resulted in other Facebook users posting calls to "neutralize" Freij, depicting him as Hitler, and others.